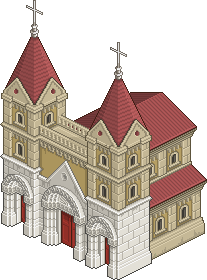 by David Scott Klajic
Get an Annulment?
The Presbyterian Church we had been attending proved to be too far for us and our little growing family. So, although it freaked me out, my wife asked me if I was OK with attending at the local Catholic Church. I was in another faith waning slump, so I figured it would be fine.
It is important to understand that I was married to a real-life woman who had her own spiritual journey to go through. You cannot be in a serious marriage and live your inner life in a vacuum. She was seeking something too, and we were both broken up about my dad. She asked me if I would be willing to speak to the priest there about an annulment (from my first marriage) for her sake. I figured
"I don't believe in them anyway, so why not?"
It was during those conversations with the priest that 3 related things came up:
The Catholic Church acknowledges the apostolic succession of the Orthodox Church,
This meant my baptism and chrismation as an infant made me Orthodox, and
There was no need for an annulment because no Orthodox can marry a heterodox outside the church and especially without dispensation.
A technicality? Sure. But what did it mean for me, personally?
For the first time in my life, I felt that what might have seemed like a series of quirky coincidences to any rational, scientific minded guy like me was no coincidence at all. Those that know me as almost Spock-like in my approach to understanding phenomenon will know how out of character it is for me to write—I believe having me baptized and chrismated as an infant was my father's gift to me from beyond the grave. I cannot prove it, so don't ask me to.
For a brief moment, I was considering converting to the Eastern Catholic church, so I could practice the rite given to me at birth, while remaining in communion with my wife. In fact, I attended RCIA (Rite of Christian Initiation for Adults) for a bit and my wife and I even had our marriage "convalidated" by the Catholic priest. I attended a liturgy at a Ruthenian Catholic Church. I was under the impression after going to confession with the priest there that I was now, Eastern Catholic.
Read Part Four now by clicking here
From the Church of Christ to the Orthodox Church