By Adlen Robinson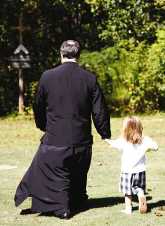 The Journey of Fr. Barnabas Powell. This was published today by Forsythe News.

Some people sense a calling early in life but make other stops along the way before answering it.
Such is the case with Father Barnabas Powell, the new pastor of Saints Raphael, Nicholas and Irene Greek Orthodox Church.
Raised a devout Christian, Powell said his family left the Baptist church and found a new spiritual home in a small, Pentecostal church in Marietta.
Even as a youth, Powell said he sensed a call to be a minister.
"Some of my earliest memories are of being in church, listening to the exciting sermons and the passionate music," he said.
All of the men in his life were ministers or devout followers of the faith.
In his early 20s, Powell said he took a slight detour from the path to the ministry, becoming a police officer instead.
Although that may seem a dramatic change, he explained that his grandfather and hero, Woodrow Moore, was a longtime Atlanta police officer.
"I loved and admired my grandfather so much, following in the footsteps of my hero seemed like a good idea," he said.
At age 21, he became Officer Powell of the Powder Springs DUI Task Force.
He later attended a small Protestant college in Toccoa, obtaining an education focused on biblical theology. To support himself as a student, he worked as a police officer in the community.
"For the first time, I was exposed to deep theological thought and I loved it," he said.
It was during this time that Powell discovered his love of church history.
"If you ask most people about church history, they cite the date their church opened its doors," he joked. "But of course, the history of the church goes back many centuries and is just fascinating."
Through his continued studies, Powell began doubting some of the doctrine in which he had been so steeped growing up.
"I learned to ask questions and it seemed the more I learned, the more I wanted to know," he said.
Despite his many unanswered questions, Powell moved to Woodstock after finishing school. In the Cherokee County town, he founded a small Pentecostal church that began growing in numbers.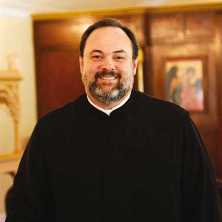 Still, the more he studied church history and Christian theology, the more questions he had.
"I was doing everything I was supposed to do, yet there was still something inside of me that felt I was missing something important," he said. "It was exhausting."
After reading a book on Orthodoxy that a friend had recommended, Powell came to realize he needed further study to find the answers he sought.
In November 2001, after years of study and prayer, he and 20 families from his congregation converted to the Orthodox faith and became members of Saint Mary of Egypt Orthodox Church in Atlanta.
After a nine-year journey, Powell said he felt as if he was home.
Heeding a strong call to the Orthodox ministry, he and wife Connie and their infant daughter moved in 2007 to Boston, where he attended seminary at Holy Cross Greek Orthodox School of Theology.
Powell was ordained to the priesthood in March.
In August, he and his family came to Saints Raphael, Nicholas and Irene Greek Orthodox Church, his first parish.
"For me, Orthodoxy offers a richness and a fullness that is timeless and yet refreshingly new," Powell said. "It is so vast and wide reaching and so full of mystery that it will take more than a lifetime to fully examine it.

"While I am not competent to judge the hearts of others, I am convinced that there is preserved within Orthodox Christianity a foundational core of worship and faith that is fundamentally true to the spirit and life of the New Testament."