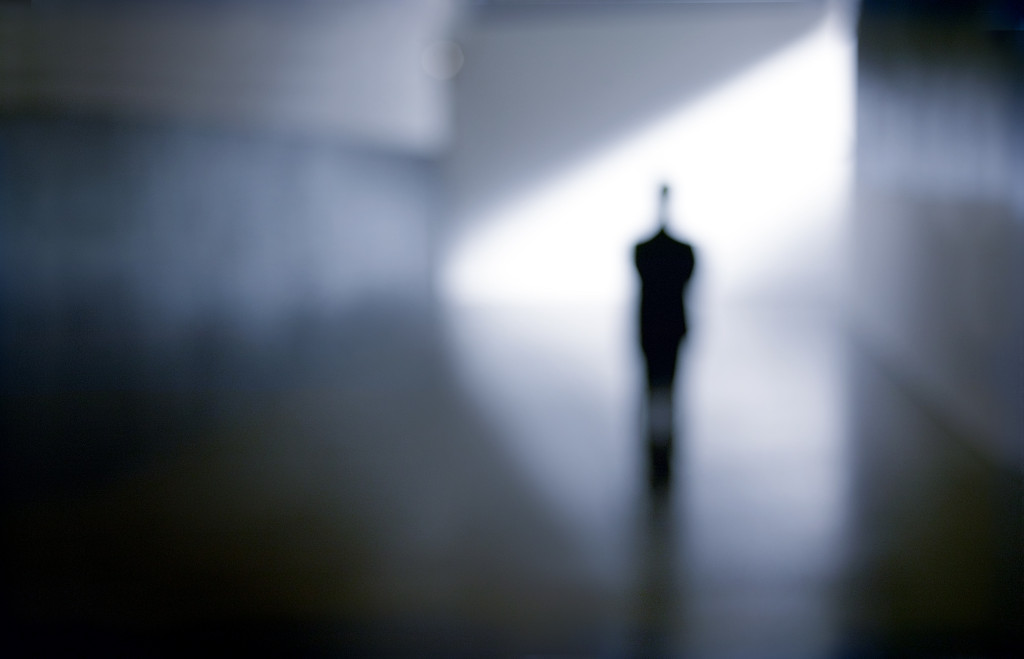 by Anastasia & Joseph Guiliani
This is the conversion story from ocultism in the Jehovah's Witnesses  to Orthodoxy, and it is not a light read. The account presented here has been edited, but reader discretion is advised. This is a strong story. We are grateful for Ravyn Anastasia and Lee Joseph for permitting us to publish it.
Where I Came In
The earliest known experience I had with my demon is not really my own memory but the "story" I have heard both my parents tell my whole life. I was about 18 months old and had a nightlight next to my crib. One night my mother heard someone brush the lampshade and awoke to see a cowboy lounging against the bedroom door frame She woke my father and he saw the figure also. But then the figure turned toward the glow of the nightlight and disappeared and they both saw the door of my bedroom close and the light go out. Dad rushed in to find this spirit heavy in presence standing over me asleep in my crib. The story goes that my father chased him away from me that night with the name of God. But apparently my father made a deal with my demon, and in the end I was dedicated to him.
At age 3 I was put on stage at the assembly, and by age 5 I was giving my own talks on Thursday nights in the Ministry School. And staying with my father during his elders' meetings with the special circle of men, while mom took my sister home and left me to sleep on the floor. I was special. And I was treated like I was special by all of them. I was not abused or molested; I was adored by all of them. I was treated better than their own children and most of the other kids were jealous of me. It was my job to "call" the demon and to tell them what the demon told me to say. I was an oracle. I was used to let them know what they were supposed to do. I wrote what the demon told me to write, for them. I was involved in channeling and automatic writing in dark ritual for 9 years. During this time I was never sexually molested by any of the humans involved, but I did serve as a consort to the demon and was sexualized from a very early age. (These experiences are nothing I speak of now to anyone. The obscenity of this is shameful to me and I will not play into the demonic mindset of celebrity that telling those stories would attract.)
I spent a lot of time at Brooklyn Bethel, the World Headquarters of the Watchtower Society of Jehovah's Witnesses, also. At least once a month dad would take me along , usually with other brothers–starting in the night-early morning (I remember watching the sunrise over the city) and we would go to 124 Columbia Heights. I used to practice my piano lessons on the piano there. I remember sitting on the President's lap and other Governing Body members always teased me. Many of them were very good friends of my father. We spent a lot of time in the cemetery at the Farm too. They called it the 'launching pad'. I remember them having Memorials (The celebration of The Last Supper) there —bread and wine and we all ate it. I was the only female and the only child there.
I was baptized May 25th 1974 on my father's birthday, one week after I turned 12. He did not want me baptized. But I had a part on the service meeting encouraging kids to take a stand and when the brother asked me what my future plans were I said I was getting baptized. I remember my father looking at me like he was going to kill me from his seat! It was the last bit on the meeting and there were other kids up there and the brother announced the song number and told us to stay seated up there. It was weird but I don't think he wanted me to sit by dad again.
And immediately afterward the elders surrounded me still on the stage and started making the arrangements to go over the questions with me–it was like only a couple of months before the assembly. My father had no choice, but he changed toward me and became almost cold from then on. I remember one older elder being in bed drunk with the bottle of wine on the floor next to his bed asking me part of the questions. He asked me if I had started menstruating yet and when I said no he was smiling and said that was good. Then he said he was sorry and started crying and dad took me out of there.
I got baptized at New Hope Assembly Hall and a Governing Body member gave the dedication talk. One other high-up was there too. And dad was with them in an elders' meeting and had to leave them to see me get baptized. My mom did not bother to come out to the baptism pool to see me, she stayed in the auditorium with my sister. I took a rock out of the parking lot and wrote the date on it with a magic marker. I never did figure out why I didn't get a gift like all my friends subsequently did when they got baptized.
Things changed at home and with dad after that. Mom slipped away into the shadows and I started taking over her role. I was keeping the checkbook and making supper and I was not going to public school because I got mysteriously ill and did not walk for 3 years. Dad acted as if he hated me but he was afraid to do anything or say anything "wrong". I was writing his Sunday talks for him from society outlines and typing his notes from elders' meetings. I even worked behind the magazine counter. I don't know of any other female who was allowed behind the literature desk at the Kingdom Hall.
I started my period that next January and I was told by the elders not to let any brother touch me. One really sweet brother who had 8 kids of his own used to hug me and told me one night that I smelled good—my cousin had bought me a bottle of cologne—and I was warned to not ever let him get near me again! It devastated me, he was like another father to me.
Something happened when I was about 15 and we left NJ a few months after. I don't know for sure what happened the first time but my father's reputation was involved. It felt as if my father was running away in disgrace. We moved from place-to-place for a few years–each time my father would end up in trouble somehow and having to move us. Always some excuse about where the need was greater or whatever, but most of the time it was some irate husband wanting to kill him for fooling around with his wife.
My mother was almost invisible by this time. My father and I became more and more isolated in the family. I went with him to give talks in other Halls and they would assume I was his wife, not his daughter. Even if my sister came with us–they thought I was her mother! I was only 4 years older than she was. Dad kept the boys away. I know of at least one whom he paid (the guy told me later), and a few he threatened.
We kept moving all over the US. There was always an inner circle in every congregation we moved into. Sometimes we were absolutely adored and sometimes we were jealously hated.
Finally when I was 23 my parents moved one more time and I did not go with them. Within a year my father had left my mother and my sister was pregnant and married and they were all thousands of miles away from me. I blamed myself for the family breakup and was told by the elders that it would not have happened if I had stayed with them. I remained a Jehovah's Witnesses for another 11 years, living on the West Coast, Pacific Northwest and finally in New England as a Jehovah's Witness full-time pioneer.
When I did leave JWs I went to the ''dark-side'' openly and became a practicing witch. (NOT Wiccan or any variety of the New Age "white-lighters", I saw that as nothing but a nonsensical fad, having experienced the real power of darkness my entire life).
A New Chapter
I became a self-professed "Strega" after I married a man who was half Italian and half Celtic. I figured if I could not beat them, I might as well join them. It was what I was familiar with and frankly, it represented the better times in my life to me. I had been protected and never lacked anything as a child, (except parents who loved me, and I had my demon to make up for that, or so I was led to believe.)
I never got that false security back as an adult outside of Jehovah's Witnesses, and in the end I had lost it with them also, as they eventually did turn on me and it facilitated my leaving. But I was being called out of that darkness. I could not reconcile how many truly good and intelligent, educated people I was meeting in the "wicked world" could believe in the fairy tale of Christianity.
The problem was, everywhere I looked at Christianity, it was not any different from what the JWs practiced in the daytime and among the shallow, drone membership of the "rank and file" slave workers-the brain-washed cult followers. It was incomplete, lacking. I searched for the depth that was missing for many years. For a long time I would take two steps forward and one back in that search. But I was being led and taught by Holy Spirit in that journey that ended in 2015 with Eastern Orthodoxy.
Click HERE to read part 3 of "Orthodoxy: What I Was Born For"