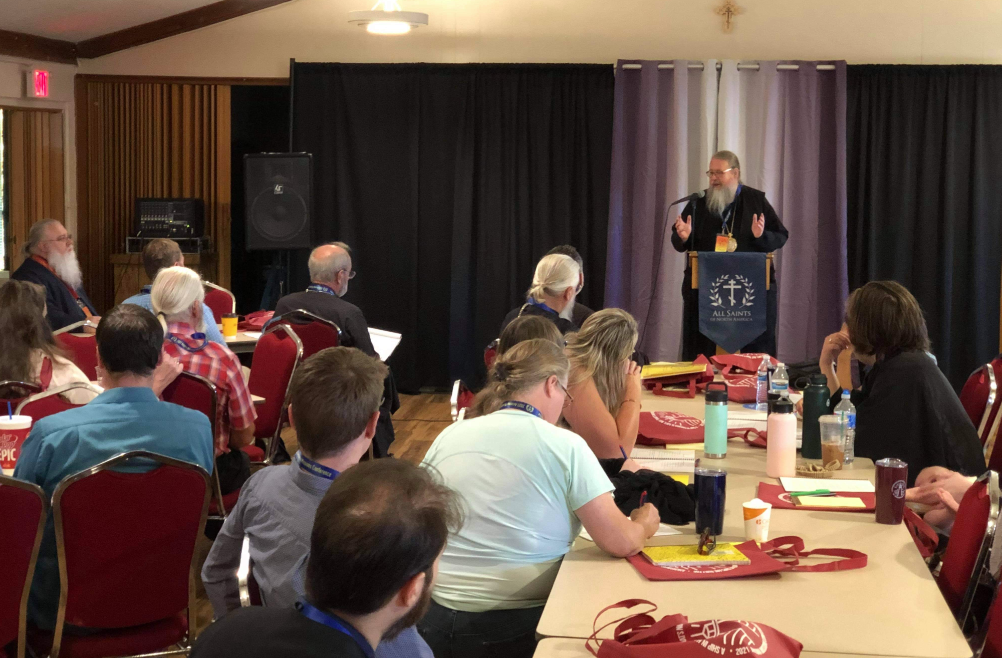 On the weekend of June11-13, the 3rd Annual Arizona Missions Development Conference took place. Calling together clergy and laity from multiple states, multiple parish, and multiple jurisdictions, the Conference is put on to strengthen and confirm those in existing satellite missions, and to inspire those preparing to plant and establish new satellite missions.
Fr. John A. Peck, rector of All Saints of North America Orthodox Church in Youngtown, AZ, hosts the conference annually to gather and inspire those in distant satellite missions and interested others as they continue to labor, grow, and thrive in difficult circumstances. 
The keynote speaker was Metropolitan Jonah (Paffhausen), abbot of St. Demetrius Orthodox Monastery and rector of St. Herman Orthodox Church in Stafford, VA, and retired primate of the Orthodox Church in America, who spoke on the Missionary Vision for Churches in America.
Fr. Hans Jacobse, of the American Orthodox Institute, and pastor of St. Peter Orthodox Church in Forty Myers, FL spoke on the Church as the only real place for Culture.
Fr. Thaddaeus Hardenbrook, President of the GreatMartyr Euphemia Orthodox Theological Academy, and pastor of St. Lawrence Orthodox Church in Felton, CA talked about the importance of fellowship and proximity in building community.
All three of the speakers have experience starting successful communities (parish or monastic) from scratch.
The conference started with a 'Meet-and-Greet' session on Friday night, giving attendees ample time to interact with the speakers and each other. Saturday began early, and included reading a pastoral letter from his eminence, Kyrill, Archbishop of San Francisco and Western America (ROCOR) to the attendees of the Conference.  All those in attendance received a Certificate of Completion for the 2021 Conference. Metropolitan Jonah celebrated Divine Liturgy for all on Sunday morning at All Saints of North America. 
The talks were recorded and will be exclusively available on the AZ Missions Conference app which is free and can be downloaded by any Apple product or Android phone. To download the AZ Missions Conference App, go here.
One of the conference attendees commented on social media, "One of the best conferences I have been to."
The AZ Missions Development Conference is sponsored each year by the GreatMartyr Euphemia Orthodox Theological Academy, St. Lawrence Orthodox Church, and All Saints of North America Orthodox Church.