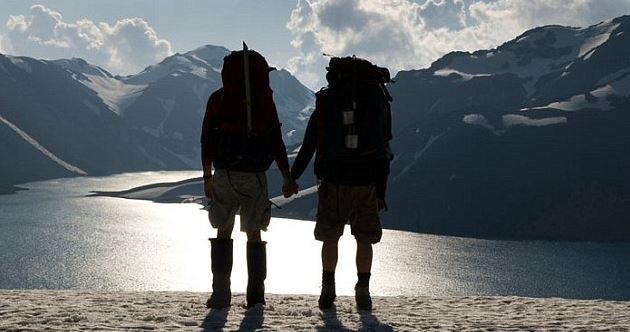 by Anastasia & Joseph Guiliani
This is the conversion story from ocultism in the Jehovah's Witnesses  to Orthodoxy, and it is not a light read. The account presented here has been edited, but reader discretion is advised. This is a strong story. We are grateful for Ravyn Anastasia and Lee Joseph for permitting us to publish it.
A Traveling Partner On The Journey
I met Lee through a mutual friend online, while I was in Southern California and they were in Attleboro, Massachusetts. I had started a flirtship with his friend Ian in an AOL role-playing chatroom and we had spent a few nights talking on the phone all night and finding out how much we had in common. So much in common that we started to think of each other as separated siblings, since he was adopted. I "met" Ian's adoptive parents over the phone too, they were both very active with their Unitarian Universalist Church and eventually both went on to become UU Ministers and Chaplains. Ian and his family helped me work out the practical part to leaving a cult and starting over. Ian introduced me to his friend Lee over the phone. I felt an instant connection and it was as if I recognized his voice. My Mother's best friend who I had always called "aunt" lost her husband my "uncle" and sent me some of the insurance money to move back to New England, to sell my home in Vermont and start over in Massachusetts.
It was the culmination of just over a year that started in Vermont, went to Seattle and Women's Shelter, back to Southern California, trying to build a secret life without Jehovah's Witnesses while I still pretended to be one so I would not lose everything I had. I packed the pod myself and put my dog in a crate and bought plane tickets to Providence and never looked back. And never set foot in a Kingdom Hall again. Ian and Lee picked me up at the airport. I moved in with Ian and Lee's parents lived across the hall.
After seeing each other daily for about 3 months Lee and I decided that we were wasting our time with anyone else and we had a pagan hand-fasting. It allowed a "marriage" if it was decided to stay together after a year and a day. We made our re-committment a day early on a moonlit beach with friends, around a bonfire in Rhode Island, where it was legally binding.
Lee's Story
Lee was born to Roman Catholic parents in the mid 1960's when his mother stayed in Okinawa while his father was a Green Beret in Viet Nam. He grew up a military dependent and traveled all over the US and the world. He has a younger sister who was born premature and is less than a year younger and she is deaf. So Lee did not really get to be the baby and toddler alone. He had to compete for attention with a disabled sibling. So he grew up the typical out-of-control wild-child, getting in trouble in school and doctors suggesting medication for "ADD". His parents were nomial Catholics and when they could no longer afford parochial schools they did the best they could by finding Lee extra-curicular outlets for his hyperactivity and boredom. Some of these included Protestant Bible Camps and even a Mormon Boy Scout Troop. He enjoy the martial arts and went on to excel in them earning black belts and even going on to teaching himself. But these solutions to a misunderstood sensitive boy really messed with his head and gave him a very unstructured and hit-or-miss spiritual development. He always felt empty and hollow and eventually after being bullied for years, ignored, and rejected because of being constantly the "new boy" he became very mistrustful and angry and bitter with God.
Lee was a very mystical seeker. He was far more cultured and worldly than the other children he grew up around. But he had to live by his wits and fists.
When we met in 1997, we were both burned out and had no idea where to go or what to do. So we started this quest together. We went from one thing to another, never satisfied or happy. Paganism, Anglican/Episcopalian, Eastern Philosophies, New Age Self-Help, even those Mormon Boy Scouts. I felt like I was collecting baptisms, always an Initiate and Novice, never growing up.
It was not easy.
Because of how he grew up with just his family to rely on, the cult of family was impossible to crack or to insinuate myself into. Through many ups and downs it has unfortunately (up to this point) come to his family hating me for taking him away from them. And Lee has had to battle many resentments on both sides as the one in the middle. It has been a hard marriage. And this is primarily due to the fact that neither of us made a commitment to the sacrament of marriage. We both recognized this and so we started to turn to his Catholic Church for answers.
In 2002, on the anniversary of our original hand-fasting by special allowance of the Bishop, Lee and I were married in the Catholic Church after I had been Baptized and Confirmed a few days earlier. I asked his parents to be our witnesses thinking it would put to rest the enmity between us, but it didn't. There was just nothing I could do right enough for them. It continued to plague our marriage. And after another move for another job, Lee and I started to lose touch with the Church, once again not feling fulfilled spiritually. I was always feeling like something was missing and there was something MORE out there just beyond our grasp.