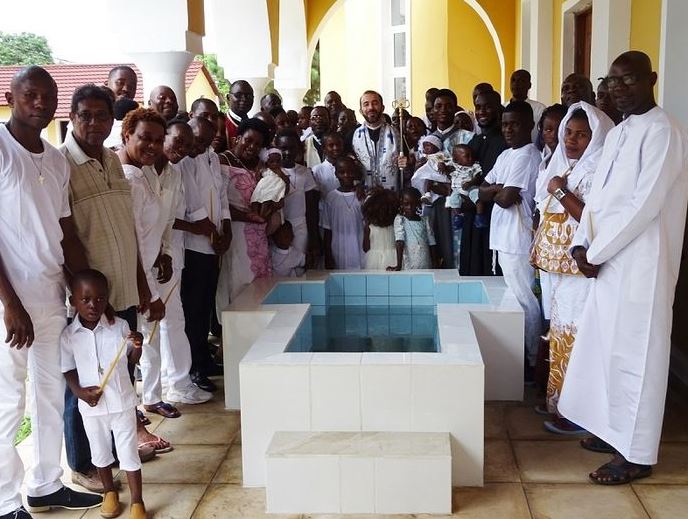 A great spiritual event occurred on Christmas Eve in the Patriarchate of Alexandria as 72 catechumens were united to Christ in His Church in the Sacrament of Baptism. Another mass Baptism was celebrated a few days later.
The service on December 24 was celebrated by His Eminence Metropolitan Panteleimon of Brazzaville and Gabon in the outdoor baptistry of the Cathedral of St. Dimitrios in Pointe-Noire, Congo, reports the Archdiocese of Congo-Brazzaville and Gabon.
Before the mass Baptism, His Eminence explained the rite of the Sacrament to those awaiting illumination, and he addressed with them a hierarchical word of advice in the spiritual life following the service.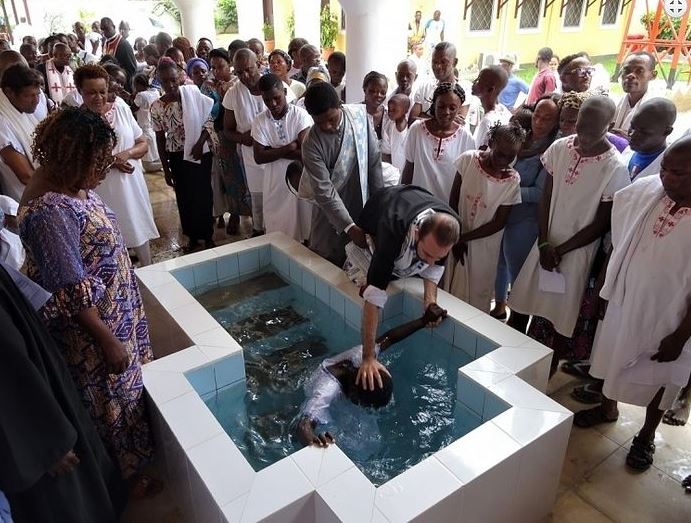 Met. Panteleimon conveyed to the newly-illumined
"the joy and blessing of the Ancient Patriarchate of Alexandria and All Africa and of its Venerable Primate, His Beatitude Pope and Patriarch Theodoros II."
Another 45 people of all ages from the Church of St. Irene were baptized by Met. Panteleimon on December 29 in the city of Dolisie.
Mass Baptisms are a regular occurrence in the Alexandrian Orthodox Church. His Eminence also celebrated a mass Baptism in the Congo River in April, and before that, His Eminence Metropolitan Meletios of Katanga and a number of other clergy celebrated the Baptism of 556 people in the Democratic Republic of Congo in two days in mid-January.
Met. Panteleimon also consecrated the Church of St. Photini in Pointe-Noire in May, which is the third church in the city. The Cathedral of St. Dimitrios where the most recent mass Baptism took place is still under construction.