by Lucy Ash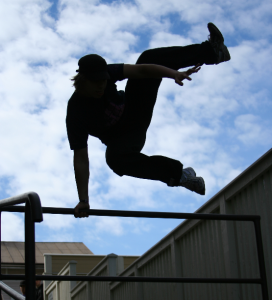 The Russian Orthodox Church has come under fire following recent stories about church officials being involved in drink-driving and road rage attacks. But it also provides valuable public services – including helping wayward teenagers get back on track via a risky urban sport.
My stomach lurches. The young man in front of me suddenly plunges down the stairwell and seems to be dangling in mid-air three floors up. Then silently – without so much as a grunt – he springs over the banister and is standing next to me again.
Evgeny Krynin is one of St Petersburg's most renowned Parkour artists – the urban sport which mixes acrobatics and athletics and is similar to the discipline known as free running.
Parkour may have first taken off in France in the 1990s, but Krynin says the true home of this extreme sport, which requires participants to leap, climb and somersault across buildings, is Russia.
"It suits our national psyche. Our appetite for risk and love of speed – I guess we're crazy," he says.
Like Georges Hebert, the 19th Century French naval officer who was a forerunner of Parkour, Krynin believes that athletic skill and courage must be combined with altruism.
"It has to be about more than glory, fame and showing off a well-toned body," he says.
So for the past three years, he has been giving training sessions in orphanages and prisons – and also in Russia's residential centre for teenagers on probation.
"Most of these kids have been drinking, sniffing glue or using other drugs for years," Krynin says. "So we start them off with exercises to improve strength and flexibility before we try anything more complicated."
The St Basil the Great Adaptation Centre on St Petersburg's Vasilievsky Island has a team of counsellors and therapists to help the boys deal with their problems – but Krynin says Parkour is itself therapeutic.
"Many of them have been thrown out school. As a result they have few aspirations and a great deal of anger inside them. But you have to be calm and concentrated to perfect a difficult movement," he says. "When they succeed, of course it gives them a sense of pride. It teaches them that every obstacle can be overcome with enough perseverance."
Krynin, a 26-year-old wearing jeans and a hoodie, can be seen as a poster boy for a side of the Russian Orthodox Church that has not been much on display recently.
When I arrived in St Petersburg, the papers were buzzing with a story about a local deacon who beat up two women in their sixties in a road rage incident.
Valentina Pavlova, a pensioner from the nearby town of Vsevolozhsk, told local press that the man nearly crashed into her. When she banged on his car window to complain about his driving, she says he got out of the car and punched her in face.
Sergei Frunza has since been suspended from his duties as police investigate the incident – but it is not an isolated case.
There is also the father superior from Moscow who drunkenly crashed his BMW sports car and a speeding archdeacon who ran over and killed two workmen mending the road.
When the head of the church Patriarch Kirill himself was photographed wearing a $32,000 (£20,000) Swiss watch, the Church made things worse by airbrushing it out – and forgetting to erase its reflection on a shiny table.
Father Alexander Stepanov, who runs the church's social programmes in St Petersburg, is painfully aware that many have condemned the Church for its unchristian behaviour in the Putin era.
I am curious to know what he thinks about the Church hierarchy in Moscow and its reaction to the feminist punk band Pussy Riot.
The three young women were jailed for two years last month after performing a punk prayer on the altar of the capital's biggest cathedral.
One of the members, Yekaterina Samutsevich has since been released after her lawyers proved she had been thrown out of the cathedral by guards before she could remove her guitar from its case.
But her two bandmates were unsuccessful and sent back to prison to serve the remainder of their sentence.
Father Alexander chooses his words carefully but it is clear that he would have preferred the Patriarchate to distance itself from the Kremlin.
"I think it was a very regrettable mistake. However hurtful this disgusting action was, it should have been made clear that we are about forgiveness and are not seeking revenge. If Putin was insulted, that's a matter for him – let him deal with it."
Hard-liners sometimes criticise the church for "mollycoddling" the teenagers at St Basil's – who they would prefer to see serving long prison sentences than practicing Parkour.
But Juliana Nikitina, a bespectacled woman in a tweed skirt who founded the centre in 2004, rolls her eyes at such comments.
"I tell such people 'Ok, well in that case, let's just poison these kids or lock them up for life! Is that really what you want?' If not, we have to work with these children and reintegrate them into society."
Having visited Denmark and other parts of Europe to look at different juvenile justice policies, she is now convinced that small residential groups produce the best results and cut re-offending rates.
"When the boys arrive, most say Church is just for old grannies or total losers but they usually change their minds," says Nikitina. "Although only about half of them will regularly go to Church once they leave us."
Every summer she sets off in three cars with the boys on a road trip around the Murmansk region in northern Russia near the Norwegian border.
They sleep under canvas and visit a succession of monasteries.
"The landscape is beautiful but sometimes the kids complain and ask why we can't hang out with normal people instead of monks? I say to them: 'Listen guys, apart from the monks nobody is really that keen to see us'."
She adds that when she has asked hostels or hotels if they can stay, the managers looked panic-stricken.
"But actually our children are not that bad," she says. "Museum staff in St Petersburg have told me they are much better behaved than pupils from some of the elite private schools when they have guided tours."