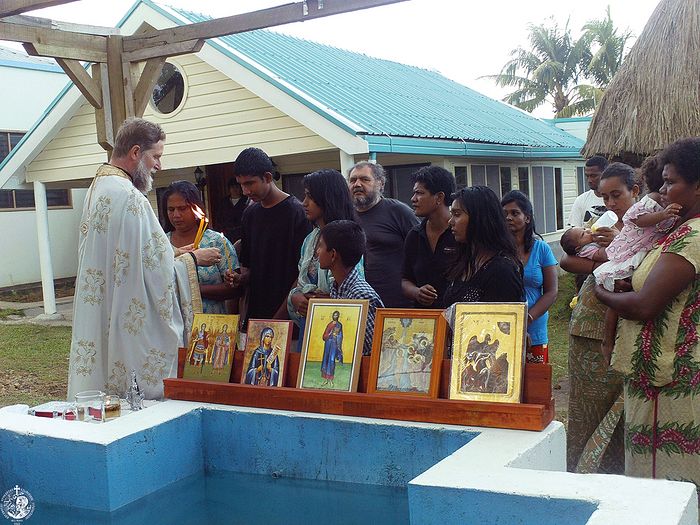 When missionary madness strikes, the Orthodox Church responds.
The course of events, according to the popular saying, in fact, divine providence, led our paces to beautiful Savu-Savu in Vanua Levu, the second largest island of Fiji.
This visit was originally scheduled for next month. However, a sudden big trial of our Orthodox brother Pantelis Baravilala made us leave the urgent tasks we had on Viti Levu, the first of the largest islands, and go to Savu-Savu, the natural harbor of Vanua Levu.
We were accommodated in a beautiful hotel owned by our Russian Orthodox brother Pavel Savenkov, who offered us warm hospitality. The next day we took the road to Pantelis' village. Our car made it to a certain point of the trip. From there on, it was not easy, at least for me, to walk on the treacherous trail of the jungle. Pantelis with his children and his other companions of the jungle took me in their arms, like my compatriot Diagoras was once taken by his children in the stadium of Olympia, and with their help, along with my fellow travelers Archimandrite Meletios and presbyter Georgios, I managed to arrive to the village without any problem.
A charming village, virtually in the midst of the jungle, where today starts, initially with wood and iron plates, the building process of a church that will be named after the great Apostle to the nations Saint Paul, as well as our Russian brother Pavel, who will have an active role in the spiritual life of our small parish that is now "swaddled" in this part of heaven on Earth, which will virtually be a Church of the children, since most of the 40 members that it is starting with are children.
How could one possibly describe the spontaneity and love of these children, as well as that of the adults, for whom we have been struggling for years "until Christ be formed in them"?
Dear Christian brothers, across Greece and everywhere, it is very difficult, if at all possible, to describe what happens in a missionary's heart, when after a long time he meets with his spiritual children, whom he has taught and baptized or even married, like yesterday, when we were received into their humble house by one of our first children Sophronia, her husband Sotiris and their two cute children. She was eager to do anything to please us, offering the best she could prepare, in order to welcome and serve her spiritual father and his companions.
It is they who spoke of Him and his true Church, the Orthodox Church. As truly obedient children, they immediately agreed to leave their poor hut and carry its wood and iron plates in order to build another one in Pantelis' village, next to Saint Paul's sacred church, which by God's grace will be constructed there. It should also be noted that Sophronia is the first and best chanter and being more educated than the others, will be a key member in the spiritual life of the new parish.
The first thing that needs to be done is to have a bulldozer open way, so that the transfer of construction materials will be possible. Mr. Paul will also help to a certain extent with his hotel machinery, as he has promised. God will provide for the rest.
However, our journey to Vanua Levu is not yet completed. After the Saturday Divine Liturgy, which we, perforce, conducted in Mr. Paul's hotel court for all our Christians of the jungle to partake of Holy Communion, we went to Labasa, the island's capital.
There was another jubilation there, in the sacred church of Ss Athanasios and Nicholas. Our dear and zealous parish priest Fr. Barnabas, of Indian descent, is constantly working for the expansion of his flock. At least twenty people are looking forward to receiving the washing of regeneration in the beautiful baptistery of their church. But while the number of the faithful increases, the size of the church is "waning". Obviously something must be done; a bigger church must be built in the yard of the existing church of Ss Nicholas and Athanasius. The decision was made under the cool shade of a mango tree, where Presbytera Maria lovingly served us a simple lunch.
Being fully aware of the fact that there is no money, we took this great decision to build Apostle Barnaba's sacred church here, as well as Apostle Paul's in Savu Savu; these two great Apostles who together started preaching the gospel in Antioch, Cyprus and southern Asia Minor.
This is the so called missionary "madness". Faith on the one hand and need on the other make them defy all the difficulties and dangers involved in the mission .
"We are fools for Christ's sake".
May the Lord's name be glorified for all these.
†Amphilochios of New Zealand
Orthodox Missionary Fraternity