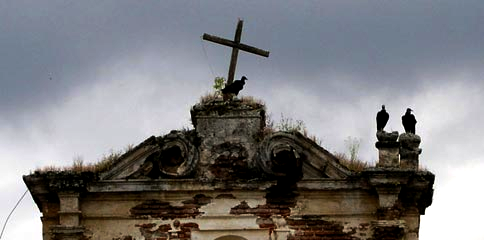 by Kevin Allen
This is an excellent and hard hitting piece by the host of Ancient Faith Radio's Ancient Faith Today. Kevin's show the only live listener call-in radio program that discusses contemporary issues from the perspective of the Holy Tradition of the Eastern Orthodox Church. Ancient Faith Today can be heard Sunday nights on Ancient Faith Radio Talk at 5 p.m. Eastern time, 6 p.m. Mountain time, 7 p.m. Central time, and 8 p.m. Eastern time. He can be reached at aft@ancientfaith.com.
A recent opinion article in The Christian Science Monitor, titled, "The Coming Collapse of Evangelicalism," by the late blogger and evangelical pastor Michael Spencer (also known as "The Internet Monk"), created quite a stir with its publication in May 2012. (It was originally written in 2009). His apocalyptic opening lines were:
"Within two generations,evangelicalism will be a house deserted of half its occupants." His prediction is that the evangelical movement in its varied forms is collapsing for a number of reasons, including the following:
• too close an identification with social and political conservatism and the so-called "culture wars";
• failure to pass on to evangelical young people an orthodox form of faith that can take root and survive;
• Christian education not having produced a people who can withstand the rising tide of secularism;
• Christian ministries increasingly coming into conflict with a secular society that sees its "good works" as "bad";
• an inability to pass on to their children a vital evangelical confidence in the Bible and the importance of the faith; and
• the sources of money will dry up.
Eastern Orthodox Churches will be short term beneficiaries.
One of his predictions will interest Eastern Orthodox Christians and its church leaders. He writes:
"Two of the beneficiaries will be the Roman Catholic and Orthodox communions. Evangelicals have been entering these churches in recent decades and that trend will continue, with more efforts aimed at the 'conversion' of Evangelicals to the Catholic and Orthodox traditions."
Regardless of whether the author's predictions come to pass in full, they certainly raise provocative questions. We are certainly seeing the fulfillment already, especially with the influx of evangelicals, Catholics, and Episcopalians or Anglicans coming into the Orthodox Church communions in America. According to surveys conducted for a 2010 study by Alexei Krindatch, a religious sociologist who specializes in Orthodox data collection, Orthodox churches in the U.S., including non-Chalcedonian churches, grew by 16 percent between the years 2000–2010. Compared with Protestant and Roman Catholic churches, Eastern Orthodox have a higher percentage of converts from other faith traditions, and in 2010 Eastern Orthodox parishes grew more in attendance (by 18 percent) than Roman Catholic (-2 percent), mainline Protestant churches (-1 percent) and Evangelical churches (+8 percent).
Growth through immigration versus evangelism
Before Orthodox start doing cartwheels and raising high fives, however, it would be wise to notice some of our own demographic and structural challenges. Despite publicity to the contrary, the growth of the Orthodox Church has resulted largely from immigration from Orthodox countries in three communions – Bulgarian (+122 percent); Romanian (+121 percent); and, Malankara Syrian Orthodox (+89 percent). Much more modest growth was experienced in the three largest communions – the Greek Orthodox Archdiocese (GOA), the Orthodox Church in America (OCA) and the Antiochian Orthodox Christian Archdiocese of North America (AOCNA) – despite their greater resources, numbers of parishes, infrastructure and the fact that the GOA, OCA and AOCNA account for 80 percent of all U.S. Orthodox Church adherents.
Aging membership
According to a recent survey, the average age of parishioners of the two largest Orthodox communions (GOA and OCA) is 52 years. That is not exactly a favorable demographic trend if it continues. Krindatch notes that, among GOA and OCA parishioners, only one-third are under the age of 45 years.
Problem retaining our youth
It is well-known that many of our Orthodox communions fail to retain their cradle-born youth. We Orthodox converts, too, have had to face the sobering reality that our own cradle-born Orthodox children and grandchildren are not any more likely to stay faithful to the Orthodox Christian faith than previous generations of cradleborn, or mainstream Protestants or Catholics, especially when they go off to college or marry outside the church. As a former Sunday School
teacher, I sense we are failing to educate and catechize our youth appropriately or successfully to meet the challenges of the American secular onslaught (what I call "the People Magazine culture"). Speaking anecdotally, my estimate is that 50 percent or more of the high-schoolers I taught in my classes are no longer identified with the Orthodox Church.
Where are the Orthodox colleges?
One of the ways of educating and retaining youth is through religious-affiliated college education. A cursory review of Presbyterian colleges, a Calvinist Christian denomination with two million members (down 2.9 percent in 2010, according to recent data), indicates there are over sixty Presbyterian-affiliated colleges and universities in the United States. How many undergraduate liberal arts colleges exist in the Eastern Orthodox community? Two: Hellenic College in Boston (part of Holy Cross Greek Orthodox Theological Seminary and the Greek Orthodox Archdiocese), and the newly-created pan-Orthodox Saint Katherine College in North San Diego, California. They have fewer than 500 undergraduate students between them. Even though the need is so great, organizations like the Orthodox Christian Fellowship – geared to college-aged Orthodox – struggle historically for financial and organizational viability.
Image problem
Orthodoxy also has an "image" problem. Eastern Orthodoxy in the U.S. continues to struggle to this day with its identity, focus and purpose. Although 9 out of 10 Orthodox are born in the U.S., the impression people outside the Orthodox Church have is that we are still an "immigrant and ethnic church." This is clearly an impediment to potential American inquirers. Frankly, the fact that Orthodox communions continue to identify themselves (except for the Orthodox Church in America) with names associated with their "old world" and ethnic origins – Greek, Antioch, Bulgarian, Romanian, Serbian, Russian, and so forth – is a serious "branding" and evangelizing problem for the Orthodox Church in terms of appealing to Americans. Tied to this is the fact that foreign languages are still much more prevalent in Eastern Orthodox churches (46 percent) than in Roman Catholic (25 percent) and Protestant Churches (8 percent). An example of this continuing ethnocentric reality in some Orthodox communions is a recent poll, in which the largest Orthodox communion reported a margin of 52 percent of those polled agreed with this statement:
"Our parish has a strong ethnic identity that we are trying to preserve."
This could be related to an existential fact: all the Orthodox communions in America (over 20), with one exception (Orthodox Church in America), operate under the ecclesiastical authority of Synods in countries outside the United States, in contradiction to Orthodox ecclesiastical canons. In some instances, there appears to be little understanding of American culture and its needs, or interest in them.
A distribution challenge
We have a "distribution" problem, too. 45 percent of all adherents of U.S. Eastern Orthodox Churches live in five states: New York (14 percent), California (10 percent), Illinois (8 percent), Pennsylvania (6.5 percent), and Massachusetts (6 percent). People in some cities and states in the U.S. could not find an Orthodox Church of any communion even if they wanted to. (The situation is far worse in Western Europe.) Nationwide, the proportion of adherents of the various Orthodox Christian Churches to the total country's population is small – 0.34 percent.
Not reaching minorities
We Orthodox are also "isolationists" by a wide margin when it comes to ecumenical, social interaction and evangelism, when compared to Protestants and Catholics. One glaring example: we are not reaching minorities. Despite the fact that now over 50 percent of newborn babies are no longer Caucasian, the Orthodox Church has only one African-American priest (so far as I know). There is an inner-city mission in Kansas City in an African-American neighborhood (led by a non- African-American priest). I am not personally aware of any Hispanic priests, though we do have one or two local Hispanic ministries (Los Angeles and Dallas) led by non-Hispanic Spanish-fluent priests. These are excellent, but small ministries.
To the best of my knowledge there is no "strategic vision" for reaching Latinos and African-Americans in the Orthodox Church. Through the new social service agency FOCUS North America (Fellowship of Orthodox Christians United to Serve) members of the Orthodox Church are making the Church more visible, and interacting with non- Orthodox. While they are serving the poor and needy in a few major "inner cities," overall our interaction with minority society and culture in general is negligible.
Not on parity financially with Protestants or Catholics
Recent surveys also indicate that the financial strength of Orthodox parishes is weaker on a congregation-by-congregation basis when compared to Protestant congregations and Catholic parishes. This financial weakness affects our ability to provide sufficient incomes and benefits for our priests, to do missions, evangelism, youth and college ministry, ministry to our communities, social service and Orthodox media – all of which are vital to the growth and success of the Orthodox Church in the United States. Failing to evangelize the culture
Finally, we have not seen much success or, sadly, interest on the part of Orthodox communions in general in evangelizing our culture, beyond receiving a trickle of disaffected evangelicals. (The exception to this generalization are Orthodox new media, some individuals in the church, and Orthodox publishing houses.) Despite the fact that the demographic group in American society labeled "millenials" (age 18–30) barely self-identifies as "Christian" any longer, there have been no serious efforts so far as I can tell to reach this demographic group. We live in a culture hungry for "spirituality," but again for the most part we are not reaching – or attempting to reach – spiritual seekers in new age, Hindu or Buddhist sects (there are over 800,000 American-born Buddhists in the U.S.). We are not targeting or reaching minorities. Our college students are largely on their own.
Are we ready?
So the question is, Are we ready to meet the challenges being presented to us in this culture by those who are becoming increasingly disaffected with other Christian traditions, and by spiritual seekers looking for meaning and purpose missing in the post-modern secular culture? As much as I love the Orthodox Church, my answer to the question is, sadly, "No." By God's grace, we need to raise up a new generation of visionary leaders – episcopal and lay – who see the Eastern Orthodox Church in the United States not as an ethnic or "boutique" church, not as an appendage to churches in other countries, but as a vital Church with the authentic apostolic tradition, legacy and legitimate mission in this land.