Orthodox Christianity Comes To Erie, Colorado
250-member St. Luke grew from tiny Lafayette church established nearly two decades ago
By John Aguilar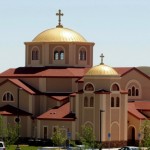 The building is brand-new, the land never before scraped, but the site in Erie where St. Luke Orthodox Christian Church now sits has roots going back nearly two millennia.
A vivid, larger than life-size image of the Virgin Mary, accompanied by a young Jesus, stretches her arms out above the altar. The Messiah — surrounded by painted prophets — gazes down from the dome inside the church's temple, which is adorned with Byzantine arches and columns.
There's no organ here — all music is chanted or sung a cappella. There are no statues — warm-hued iconography is the rule.
Standing inside St. Luke evokes a different time, a different era.
"It's the one that was established by the Lord and the apostles," said the Rev. David Mustian, pastor at St. Luke. "When people look at the Orthodox Church, it feels new to them, but when they start digging, they see it has old roots."
Those roots go back to the Roman empire and the earliest church established by Christ, St. Paul and the apostles. The faith has developed multiple permutations depending on where its adherents have called home — Russian Orthodox, Greek Orthodox, Eastern Orthodox — but Orthodox Christianity is bound by one dogma worldwide, Mustian said.
"There's a deep seeking for God in this life and the truth about God," he said. "And maybe there's a humility on your spiritual journey, a sense of 'I can't figure it out on my own.'"
A rich tradition
Mustian sees nothing odd about choosing a burgeoning town like Erie — peppered with new housing developments and buildings under construction — as a place to set down an ancient tradition. The town, while appearing to be in its infancy, is actually a place with more than 100 years of mining history, he said.
And more important than the church's physical location — on Austin Avenue just inside the Boulder County line — are the families St. Luke attracts, Mustian said. The families, he said, are looking for constancy in an ever-changing world.
Christi Ghiz, 40, has been an Orthodox Christian for 15 years. The Lafayette woman started off as a Baptist, but saw in her new faith a rich history that seemed to be fading from the Protestant services she attended.
"A lot of the Protestant churches are changing with the times, but the Orthodox Church hasn't changed in 2,000 years," she said.
Ghiz said that sense of tradition is "comforting." More than half of St. Luke's 250 members are converts from other faiths.
That includes Mustian, who converted to Orthodox Christianity from the Episcopal Church nearly 20 years ago.
"I was looking for a church that would stay the same in terms of its doctrinal beliefs, which go back to the early centuries," said the 56-year-old Yale Divinity School graduate. "The problem with always trying to appeal to the right now means you're quickly out of date."
Denise McIntyre, an adherent from Broomfield, sees St. Luke as a mission church — attracting worshipers from Brighton, Boulder, Denver or Fort Collins. Prominently visible for miles from several directions, the church's striking architectural style draws people's eyes.
Inside the building it's no different.
Holy paintings
"Iconography is a holy tradition," said Archbishop Gregory, an Orthodox monk from the Dormition Skete monastery outside Buena Vista. "When a person looks at an icon, their eyes want to stay on it."
Archbishop Gregory and three of his colleagues created all of the icons for St. Luke, painting the images on canvas and then gluing them to the walls and ceiling of the temple.
He said it took about six months to do the work.
As vivid as the imagery inside the temple is, it's hard to hide the fact that there are still wide swaths of a blank space on the cream-colored walls.
Mustian said they will eventually be painted too, most likely with illustrations showing the story of Christ's life.
But he said there is no rush to get it completed.
"The church won't be finished until the next generation," Mustian said.
Archbishop Gregory said his own temple, which has been around since 1978, still needs some iconographic work done to it.
"You don't need to have all the walls and ceilings frescoed to be a church," he said.
Steady growth
Mustian is just happy with what he's been able to accomplish in the nearly two decades St. Luke has been around, starting out in 1991 with 40 congregants meeting in Lafayette's former city hall building.
After moving to a new location in the city, which it eventually outgrew, the church bought nine acres in Erie and broke ground a couple of years ago on a new 15,000-square-foot building.
The massive door handles on the entrance to the church were installed just a couple of weeks ago and the floor inside the temple is still concrete.
But Mustian said his congregation is patient and is happy to take things a step at a time, knowing they've finally found a permanent home.
"It's nice to feel that you've got the foundation laid and have the space, so that the next generation can enjoy what has been given to them," he said.