We offer you an article written by Fr. Geoffrey Korz, Managing Editor of Orthodox Canada and the Dean of All Saints of North America Orthodox Church in Hamilton ON, Canada.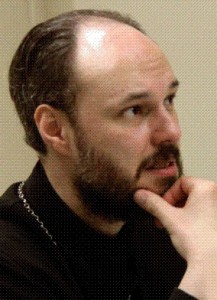 Some years ago, I had the pleasure of dining in Toronto's "Greek Town" with a sister in Christ, a Greek grandmother who had been around the Church all her life, and who was a true realist. As we walked through the warm summer streets, surrounded by mobs of young people – many of them Greek, and presumably Orthodox Christians – my friend let out an audible exclamation.
"Look at them, Father – they don't even know what an Orthodox priest is! Why aren't they at Church?! They should be ashamed of themselves!"
Of course hearing this, all these young people heard the voice of their own yia-yia, or grandmother, confronting them with their own lack of piety, spiritual observance, and care for their Faith.
About a year later, a young friend – also Greek – was confessing her frustration that the Church didn't provide answers for her life and the lives of those she knows – answers on questions about marital life, family finances, the news we see on television, and how to answer the pointed questions of her atheist co-workers.
"But the Orthodox Church does provide those answers," I protested.
"Then why have I never heard them?" she asked, poignantly.
She had an excellent point. Where had the breakdown occurred between the zeal of the grandmother, and the yearning for answers of the young woman?
I should note here, that both women were and are regular churchgoers, and both have family members who all but ignore their Orthodox faith. The two women are not related; I don't believe they have ever met. Yet in a very real way, their questions reflected two sides of the same coin.
Politicians sometimes talk about the divisions that exist between "Bay Street", the centre of economic life, and "Main Street", the centre of real life. Perhaps it is a result of a generation gap, or growing secularism, immigration patterns or the popular media, but somewhere in the last fifty years, Canada's "Main Street" stopped hearing the answers given by the Church. In many cases, Canadians had never heard the eternal answers offered by the Orthodox Church, of course, but they at least had some share of Christian truth from the society around them. Orthodox efforts in this area appeared to be safe to take a generation-long time out.
This is no longer the case. The issues facing "Main Street" Canadians, particularly those under 30 years of age, leave many people spinning in the storm of western relativism: many simply do not know where to find the truth, or even if truth exists.
There has never been a time when the hunger for the Truth has been stronger and more needed than it is today. The fact that this Truth is not an idea, but a Person – God Himself – makes the answers His Body the Church has to offer so much more fitting to fill the emptiness in the lives of many "Main Street" Canadians, Orthodox ones included.
The same eternal Truth, expressed in the words of the saints and the prayers of the Church, that sustained grandmothers in generations past, can and should sustain the disappointed relativists, truth-searching activists, and recovering Emo kids of our time.
Christ died and conquered Death in order to achieve the salvation of the world, including those on "Main Street". It is to that large segment of our nation's family that this issue, its questions, and the answers it offers, is dedicated.
May God bless us all to carry on God's work in our own hearts, and on Main Street as well.
Source: Orthodox Canada