by Tamara Schmerse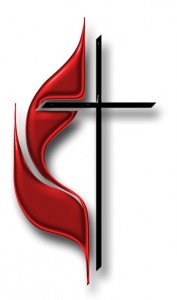 Methodist
Part 8 of 17
I remembered something I had discovered when doing my family tree research several years earlier. An ancestor of mine, by the name of William Carvosso, had written a book in the year 1815, about his experiences with God and the Church. I had managed to secure myself a copy, and was pleased to discover that my ancestor was a very pious, God-fearing man. He also had felt that the Anglican Church was not the place to find the Truth of God, and so, in the footsteps of his contemporary John Wesley, he worked hard to spread the Gospel around Cornwall and all of Britain, in the form of what became known as the Methodist Church.
This was the opposite of the founding of the Church of England – this church was founded by the good intentions of a Christian man who simply wanted to follow Jesus and spread the Good News to the world in the way the Bible directed. Wesley had not intended to actually found a new church, and Methodism did break away from Anglicanism until after his death in 1791, but by then enough people had been influenced by his "methodical" way of practising religion that, when the Good News reached the ears of my great-great-great-great-granduncle William, he saw his calling to be selling his farm, saddling up his horse, and riding around the narrow roads of Cornwall with his Bible, at the ripe old age of 65.
So the Methodist Church was deeply entwined throughout my family history. And besides all that, it was the church that my mother belonged to. So to Google I went, and the words "Methodist Church Logan" brought the happy discovery that the nearest Methodist Church was in fact only two blocks away from my house.
Upon entering the large tin shed (by this point I had given up my romantic notions of imposing old buildings with pointy spires, stained glass windows and wooden pews), I was welcomed warmly by the Pastor, Reverend White, who was fascinated to hear my family history and story of how I ended up at his church that day. The service was very comfortable – in structure it was very similar to the Baptist church I remembered so fondly, however the Bible readings were read from the New King James version (which I preferred infinitely over the NIV of the COC church), and the songs were mostly hymns that my mother would have sung in her childhood. I felt great. I felt like I was "home".
My feelings of being home only grew when I discovered that this church had an orchestra, and would welcome my meagre Trumpet playing abilities in their monthly concerts. I fell comfortably into church life and everything was rosy. I began attending Bible study classes and my classmates were impressed with my Biblical knowledge. I performed in Christmas, Easter and Anzac Day concerts, which my mother enjoyed watching, but it was always a struggle to get my husband and father inside a church, for any reason. My husband supported my free will to choose my own religion, but always offered snide little comments whenever possible, about how silly people who believed in God were.
So after around 18 months I was not expecting anything to change my mind about being a part of the Methodist Church… until the fateful day when dear Reverend White announced his upcoming retirement. The church had two assistant pastors, Pastor Rod, who was actually the husband of the orchestra conductor, who had become one of my closest friends, and the other was a young girl, Pastor Shannon. This fact had always made me a little uncomfortable, but I had always brushed it aside, as it had never been an issue before. However, now Pastor Shannon was going to become our new full time Pastor, and all of a sudden I had to confront my feelings about women in ministry.
From all the reading I had done on the subject, I had come to believe two things: one, that roles of leadership were always, as directed in the Bible, to be performed by men; and two, that everyone I had read who disagreed with that statement, always came first from their own feelings, and then tried to use snippets of Scripture to support their view. Women in ministry in Australia was a very recent, and seen by people of my parents' generation, rebellious, thing. And as I have mentioned, I was looking for the traditional kind of church that my parents grew up with.
This incident caused me to open my eyes and take a fresh look at my local church. I noticed for the first time that there were significantly more women than men in that building on any given Sunday. And after Rev. White left, there were several Sundays where there was not one male on the stage at all, at any point in the service. Children read the messages, lead the songs, and even came up to do "guest" sermons. Isaiah 3:12 came to mind often during this time:
"As for My people, children are their oppressors, and women rule over them. O My people! Those who lead you cause you to err, and destroy the way of your paths."
There had been talk for a while about overhauling the whole structure of the church as well, to make it more youth-oriented. I often wondered why, if the youth felt unhappy there, they didn't just go 20 mins down the road to one of the huge pumping COCs. There were many people who had told me they agreed with me about the "traditionalness" of the church being its main draw card, and so these talks hadn't concerned me that much. However, with the new female pastor, each Sunday seemed to be taking the little Methodist church closer and closer to the COC that I hated. I began to feel very uncomfortable. There were times during Sunday worship, when I would look around at the scene, and wonder what God thought of it: are these people there to worship God on a Sunday? Or are they more focused on making the people more comfortable, more entertained, more likely to come back and bring friends?
And so, while still attending Sunday services at the Methodist church, I began again my search for God's True Church.
Part 9 can be read by clicking HERE.