Here is a story of the good work of the martyred priest, Fr. Daniil Sysoyev.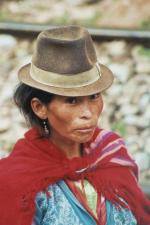 Immediately following Christmas services, in one of the Orthodox churches in the southern districts of Moscow, two women of the Quechua people of South America accepted Orthodox baptism.
"We talked with them about the faith, and they read the Creed of the Orthodox Church in Spanish, which I downloaded for them from the Internet",
said Fr Daniil Sysoyev, the rector of the parish of St Thomas the Apostle in Kantemirov, in an interview with our Interfax-Religion correspondent, describing how he served the Sacrament of Baptism for these women.
According to Fr Daniil, the two women from Bolivia, a mother and daughter, who accepted baptism, were in Moscow pursuing studies. They learned about the Orthodox faith from one of their friends, who is of the Inca people from Peru and a long-term resident of Moscow.
In baptism, the women took the names of Maria and Yelizaveta, in honour of St Mary Magdalene and Grand Princess St Yelizaveta the New Martyr.
"Quite possibly, this is the first time in history that Quechua people embraced Orthodoxy", Fr Daniil noted.