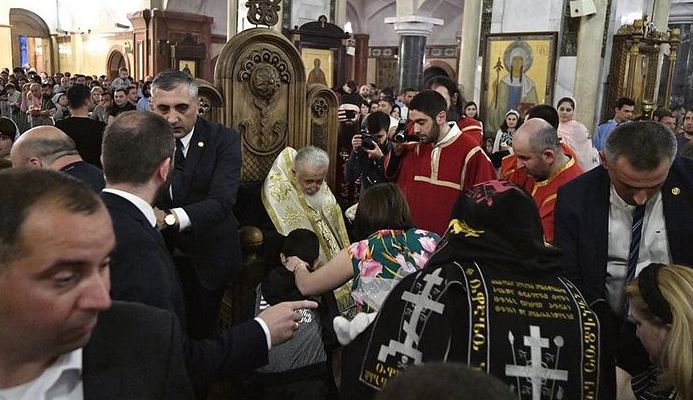 His Holiness Catholicos-Patriarch Ilia II, the beloved spiritual father of all Georgia, celebrated his 58th mass infant Baptism at Holy Trinity Cathedral in Tbilisi yesterday on the feast of St. George the Victorious.
The Georgian primate became the Godfather to another 777 children this time, reports InterPressNews.
"Christ is Risen! I congratulate you with Giorgoba [the feast of St. George—O.C.], I congratulate you with the Baptism of my Godchildren," the Patriarch said.

"Before today, 37,901 children have been baptized, and today 777 children were baptized," Archpriest Shalva Kekeliya explained. Thus, to date, His Holiness has become the Godfather to 38,678 Georgian children. The previous Baptism was held on January 20, with 630 children being baptized.

"We usually try to make these Baptisms coincide with a feast. Today we had the Baptism in connection with the feast of St. George," added Fr. Shalva.
St. George is highly venerated throughout Georgia, being a relative of the holy Equal-to-the-Apostles St. Nina who evangelized the Georgian people.
With the first mass Baptism on January 19, 2008, Patriarch Ilia commenced his initiative to help improve the dire demographic situation in Georgia caused by post-Soviet abortion rates. Such mass celebrations are held four times a year in which the primate personally baptizes and becomes the Godfather for the third and later children of married Orthodox couples.            
According to the latest statistics, the country has a population of 3,718,200. According to the forecast of the United Nations Population Fund (UNFPA), this number may drop to 2,985,000 people by 2050.
Pat. Ilia has been the primate of the Georgian Church for 41 years. At the time of his enthronement, there were 15 dioceses and only 30 active churches left thanks to communist persecutions. Today there are 47 dioceses and about 2,000 active parishes, as well as about 3,000 clergy.