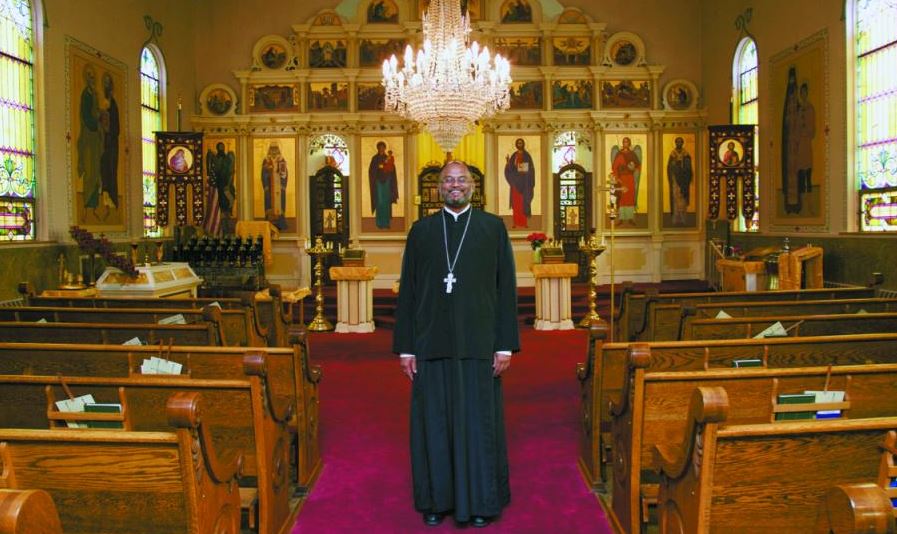 by Julie Hagenbuch
A passion for church history can lead a Christian to wade knee-deep in the River Jordan, stand beneath Juan Diego's cloak at the Basilica de Guadalupe in Mexico City or take communion at the Vatican in Rome. For Father John Edward, a lifelong commitment to Christian history led him right to St. Michael's Orthodox Church in Mount Carmel, PA.
Born in Malaysia to Indian parents, Edward was exposed to an array of religious traditions and expressions from an early age. The most common faith in his home country, Islam, is practiced peacefully alongside Buddhism, Hinduism and Christianity, as well as ancestral Chinese religions.
"Malaysia was a very, very friendly country," he said during an interview at his home last week.
With such a broad view of the forms faith can take, Edward traveled to India when he came of age to study theological education, completing his studies in 1990. He then moved back to his home country, where he served as an Anglican minister for a decade. It was during these first years of his vocation that he married his wife, Suja, and the two started a family.
Back to 'cradle of Christianity'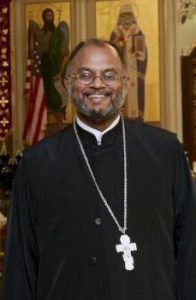 But Edward's thirst for knowledge and faith exploration continued to grow and change. In 2001, he was accepted into a post-graduate program at Princeton Seminary focusing on the history of the early church, for which he moved to the United States to become a Master of Theology, then serving the Episcopal Church throughout New Jersey and New York for 10 years.
"My interest has always been church history," said Edward, "That led me to actually want to go back to the early church — the church that Jesus formed, the church that the apostles were a part of."
But protestant faiths like Anglicanism that emerged from the reformation came around much later, beginning in the 1500s.
"I just wanted to go back to the roots — the cradle of Christianity," said Edward.
It took him a few years "to discern, to look, to search" — a time during which he explored a variety of church traditions and Christian denominations. At the end of his search, he found an answer.
"Ultimately my search led me to the Orthodox Church because (it) has come down for the past 2000 years without changing anything," he said. "The faith has been intact. As one of our saints, Saint Nikolai of Japan, says, 'We don't add anything and we don't remove anything.'"
Big city to small town
And so Edward began the next step in his faith formation: he attended seminary at St. Vladimir's Orthodox Seminary in Yonkers, New York, and was ordained in June 2015 to the priesthood. The archbishop of Eastern Pennsylvania suggested he would be a good fit at St. Michael's in Mount Carmel, and within a week the Edward family — now numbering five — packed up and moved to Pennsylvania.
"Initially moving from such a big city to a small town needed some adjustment," he said, "but we have adjusted well. We kind of like the peace and quiet, the calmness of this place. We don't have to worry about traffic jams or getting to places on time. It's really nice."
And the Edward family, which includes Samuel, 20, Sneha, 19, and Sophia, 15, has been welcomed "with open arms" by a congregation that spent two years without a full-time priest.
"They are just wonderful people," said Edward. "Very loving, very caring people. Their faith is deeply rooted. Most of my congregation — the elderly ones — their fathers were involved in building this church, so they have so much love for (it.)"
Edward says he is grateful to be serving a congregation that, though small in number, is diverse in age; it includes young families, children and teenagers, as well as senior citizens who have been lifelong members.
'Here to serve you'
And the congregation is grateful to be giving back to the community again, according to church member Sandy Tosca. At a parish picnic last month, St. Michael's invited representatives from the Lower Anthracite United Way backpack program, God's Chuckwagon and Manna for the Many, all of which were presented with a donation from the congregation.
"It is a miracle we went from barely getting by as a parish to finally being able to help our community," said Tosca.
St. Michael's has services on Sunday mornings, Vespers services on Saturday evenings and feast day celebrations throughout the year. But what Edward most wants people to know is that the church is open and welcoming to the the entire community.
"St. Michael's is here to serve you,"
he said, offering his church up as one small piece of a Christian faith that continues to weave its way through history.
Devotion to Orthodox History leads Malaysian Priest to Mount Carmel