An Associate Pastor and Pro-Life Activist
by Fr. John Whiteford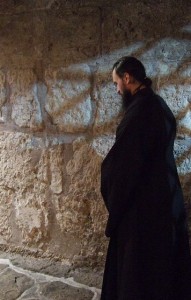 The new Nazarene Church, that I began attending seemed like the ideal I had been looking for. It was started by the initiative of the District Superintendent (who functions a bit like a diocesan bishop) with the intention of attracting people who were inclined to a more "charismatic" environment. It didn't even have "Nazarene" in its name – it was called simply "The Sonlight Center" – although this had previously been a requirement for every local Nazarene Church. It had a rock band, "Top 40" worship, and an emphasis on the gifts of the Spirit – but it also already had a doctrinal statement, and was accountable to a wider church.
Eventually I became the associate pastor of this church.
One of the ministries that this church began to get involved in was pro-life activism. In fact, this church started the local chapter of "Operation Rescue", which was leading protests at abortion clinics, and whose favorite tactic was to blockade the entrance, using the methods of passive resistance which had been used by the civil rights movement, and try to shut the clinic down for as long as possible.
At the first meeting we held, Fr. Anthony Nelson of St. Benedict Orthodox Church arrived in his riassa and pectoral cross, and I turned to my wife and said facetiously,
"Can you imagine me dressed like that?"
After the meeting, one of the ladies in the Church informed me that they had intended to send an invitation to every church in the Oklahoma City area, but that she didn't have sufficient postage, and so prayed that God would guide her in selecting which churches to send the invitations to. So the fact that Fr. Anthony even got the invitation, not to mention that he came, was an unlikely event to have happened, but one that proved to be crucial in my journey to the Orthodox Church.