by Fr. John Moses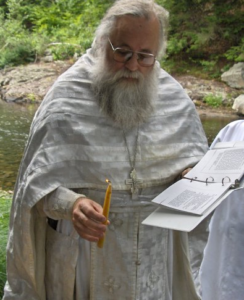 Stumbling into Zion – Peregrination
Sometimes, the Celtic saints would make a "peregrination." This is like a pilgrimage but different because a peregrination had no set destination. The saint would get in his boat, maybe with friends or disciples, and go where ever the wind would take them. This is how a broken and conflicted United Methodist minister became an Orthodox Priest. We went on a peregrination that took us across "the big pond" to the North of England and the University of Durham.
I first went to college to be a music major and my instrument was the pipe organ. However, after 2 years and a sophomore recital, it became clear to me that I would never earn a living at it. So, I studied religion and philosophy thinking that I would be a professor. During my time at Greensboro College, I had the chance to visit an Orthodox Church and I made my first step into the world of the East. The priest visited my theology class and after questioning him on several issues, it became clear that I knew very little. How does one argue with a man who can tell you what the Greek text literally means and then brings the powerful witness of the Fathers to bear on the topic? The vagaries of "the German School" and neo-conservative theology seemed to pale in comparison.
If you want to make God laugh, tell him your plans. After 15 years as a Methodist pastor, my plan was to earn a Ph.D. in Methodist history. How God must have laughed at me as I travelled to England (me – a scholar?). Once I arrived, I met a dear Greek brother, Yannos (now a priest in Athens). We became fast friends and had many adventures. Above all, he introduced me to the Orthodox community at Durham. I was profoundly affected by their piety and faith. To my western ears, their worship was otherworldly. I met Fr. Dr. George Dragas and heard many inspiring lectures from him. Sitting in his office one day, he turned to me, smiled and said "Moses, you know that Orthodoxy is salvation," and then he turned away. That was quite a challenge to my Methodist religion. It caused me to stumble towards Zion.
I had my first experience with a saint. I learned that St. Cuthbert was buried behind the altar of the great Durham Cathedral where you can also find the tomb of the Venerable Bede. When I walked behind the altar to the tomb, I had a profound experience of inner silence. I was still Protestant at the time, but I knew I was in the presence of holiness. I stayed and prayed for a long time and I would often return during my time at Durham. I visited Lindisfarne and learned of St. Aidan and the Venerable Bede and the Celtic Saints. I was stumbling towards a new world one step at a time.
Stumbling into Zion – The New World
Yannos invited me to go with him to an Orthodox monastery in York. I had visited some Catholic monasteries, but only for the day and only as a tourist. When we arrived, I noticed that the building was rather small. It had two wings with a chapel in the middle. When we went into the sanctuary, there was an old nun who chanted at a reader stand. The service started and the curtains opened to reveal an old priest at the altar. No one else came.
Four hours later the service ended and as we left, I asked Yannos about the monastery. He told me that no one else lived there but the old priest and nun. Every day, they did services, even if no one else came. I sat in stunned silence. There was something odd about Orthodoxy if such dedication was the result. Would I hold a service if no one came? Of course not. The memory of those two dear souls and their faithful witness has never left me. They caused me to stumble towards Zion.
When we left Durham, the seeds of Orthodoxy had been planted in us. I went back to the USA to serve the last 5 years of my Methodist ministry. Dr. Dragas told me about the AEOM, the Antiochian Evangelical Orthodox Mission, and so I contacted Fr. Peter Gilquist who quickly responded and put me in touch with a priest in Virginia Beach, Fr. Seraphim Stephens. When priests of the AEOM came to Fr. Seraphim's church, I attended a vesper service. I had attended some services in England, but this onemade me weep. There was something about these converts that moved me.
Fr. Seraphim's daughter attended college near us, so he and his Matushka, Zenobia, came once a month to visit. Naturally, I invited them to stay with us. I had some icons in my office and so we would pray a vespers service. I began to invite others to come and pray with us. Soon we had a small group of regulars and began to hold a Saturday Liturgy in the basement of the parsonage. I met Fr. Deacon Onouphry and Matushka Anna who came to serve faithfully in my home chapel for almost 5 years. Later, we appealed to a local Lutheran Church which gave us space in their basement to set up a temporary iconostas. Fr. Seraphim left the Antiochian jurisdiction and joined the Russian Orthodox Church Outside of Russia. I didn't know the difference at the time, but over the years, I have seen God's wisdom in it.
One Sunday afternoon, my wife and I were reading. I looked at her and asked, "Dear, concerning Orthodoxy, I know we have not answered every question, but have we crossed over a line?" My wife smiled and responded that she had indeed crossed over and she was not a Protestant anymore. I gave my notice of resignation from the Methodist Church and we were baptized in a horse trough on the back porch of the Methodist parsonage. I was later ordained by His Grace, Metropolitan Hilarion, in the basement chapel of a Lutheran Church. One year later, we founded the All Saints Mission in Middlebrook, Virginia where we would serve for the next 20 years. We were now in Zion.
Stumbling into Zion may sound like the end of a journey – certainly much of my former life had come to an end, but Orthodoxy is a journey more than a destination. When you stumble into Orthodoxy, you land on the platform and find that the train is about to leave. It is now a 22 year journey with no end in sight.
Like St. George, Orthodoxy defeated the voice of the dragon, but what of my damaged sexuality? Since the Faith does not know of a meaningful division of soul and body, physical things like sexuality began to recover as innocence and purity are restored. Was it a powerful struggle? Indeed, it was. I've had the wonderful opportunity to marinate in Orthodox services for over 20 years and the effect has been transformative (I feel sad for those who absent themselves from the services). In a small way, I began to understand how some deceased saints remain physically incorrupt. Holiness involves the physical body. I started late so I don't think I will ever be so holy, but in a many ways, my physical life has changed.
Beauty will save the world
The beauty of Orthodox theology changed me. I found real peace with God. The dragon, no matter how much or how loud he spoke, is a liar and he was silenced. The Lord's love for me is absolute and sure. He is always the Father watching and waiting for me. He is no longer the last great adversary that I must get around if I don't want to burn eternally. He does not disdain me, sinner that I am, but sees me as a son upon whom he places his ring. Repentance is daily and godly sorrow has nothing to do with any pathological self-hatred, doubt or recrimination.
As an Orthodox priest, I've had many failures. I have failed others due to my own ego and pride. Unlike the past, my ego does not weep for failures and accuse me as it once did. I know that I am not perfect and the seed of corruption is certainly in me. I felt sorrow for my failures, but self-hatred and self-doubt no longer have a claim on me.
The Faith teaches that to follow Christ is to embrace a life of struggle (anyone who thinks they follow Christ and do not struggle are probably on the way to hell). Today, my struggle is not with the voice of the dragon. My struggle is to find true humility. True humility is to stand on level ground with a clear understanding of who you before God. You have no exalted opinion of yourself, nor do you wallow in "the slough of despondency." Humility defeats all demons because there is nothing for them to attack. Every valley of despair and depression is raised up, and every mountain of ego and pride is brought low. This is done to make straight the way of the Lord. For me, the paving crew is still at work and that is fine with me. I have abandoned dreams and spiritual ambitions, even about the Faith. I try to live each day in a way that I learned from the Saints. To them, each day is the Lord's Day. I try to rejoice and be glad in it whatever it brings.
In the Church, there is a guiding light on the issue of struggle and salvation. About 3 years into my Orthodox life, I had the great blessing of meeting Abbot Seraphim and the monks of Holy Cross Monastery, located in Wayne, West Virginia. Later on I spent three weeks there is silence and prayer. Watching the prayer, piety, and struggle of these brothers had a profound effect on me and helped to point me in the right direction. I am not monastic, but they reminded me that all Christianity is ascetic. The Lord defined asceticism succinctly: "Pick up your cross, deny yourself, and follow Me.": I invite you to visit someday.
I am almost 65 years old now, so I am an "old wineskin in the frost." I've retired from active ministry and old age is beginning to have its effect on me physically and mentally (diabetes is catching up with me). I will always be a priest so I attend services and hear confessions, but I am no longer in charge of anything. We have a home chapel and so I'm trying to improve my prayer life. Of course, I have a beautiful "cell attendant" named Alexandra (God is good). I have time to read and reflect and write blogs and biographies like this one. We are not monastics, but I think about the nun and the old priest I encountered in Yorkshire. May their faithful example always shine a light on the path before us and encourage us to more prayer.
How can I describe God's way with me over the years as I stumbled through life? The 23rd Psalm, the Psalm of the Shepherd, describes it. To keep the sheep moving together, a shepherd will use sheepdogs. The Good Shepherd has two sheepdogs. Do you know their names? Here's the verse:
"Surely goodness and mercy will follow me all the days of my life, and I will dwell in the house of the Lord forever."
Goodness and Mercy – the sheepdogs of the Lord – have followed me all of my life to the mountaintops of my folly to the deepest pits of my sin and despair. They are the "hounds of heaven." They will not rest until I am safely in the fold, the house of Lord. I am a dumb sheep so they follow me still. I am to dwell in the fold forever. The mouth of the Lord has spoken it!
My mother was right. I should have been dead – to flesh and to the world. If it had always been so, my story might have been a very different one. Of course, such things can only be known by the Lord who sees and understands my past and all of my possible futures.
Stumbling into Zion – Postscript
People ask why I use the term "redneck priest?" "Redneck" implies a lack of sophistication. In past times, I struggled mightily to be sophisticated and to be admired for it. Thankfully, it stayed far from me. I hope that I remain far from sophistication and find the treasure of true humility. If you read my blog, remember it is
"the shallow end of the theological pool."
You can check it out at www.redneckpriest.com
CLICK HERE to read the entire series of Fr. John's journey from the start
Stumbling into Zion