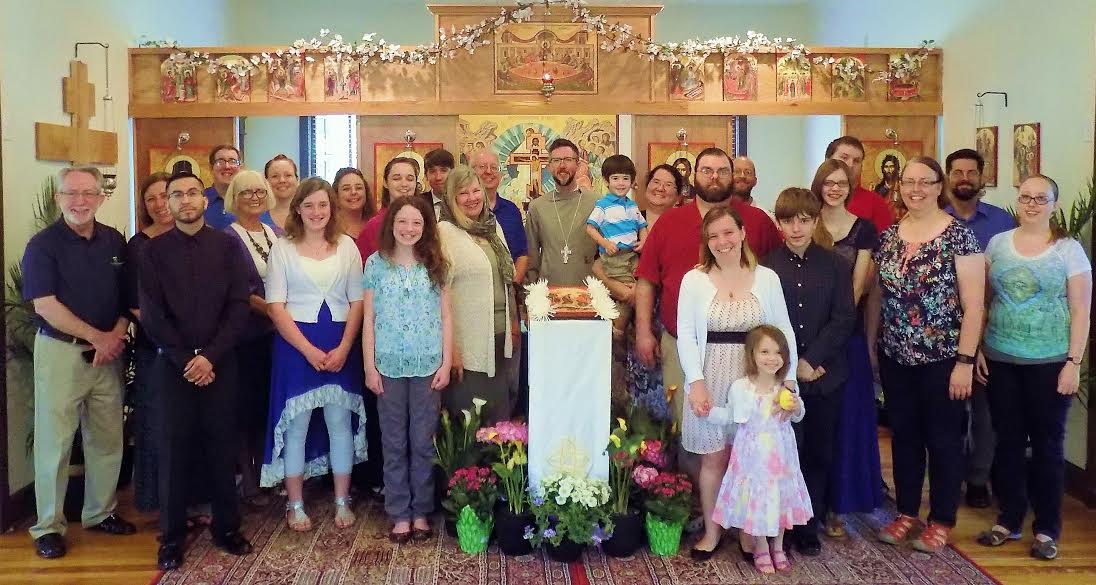 While Priest James Bozeman nurtures the fledgling Saint James Mission in Beaufort, SC—see related story— his brother, Priest David Bozeman, ministers at another OCA Planting Grant Mission, dedicated to Saint Nektarios, in Waxahachie, TX, a quiet town south of Dallas on Interstate 35.
"In 2009, His Eminence, Archbishop Dmitri gave his blessing for a handful of Orthodox Christians in the area to explore the possibility of planting of the mission," said Father David, who was assigned to Saint Nektarios in 2012. "In time, the Diocese of the South also took a rather bold risk and decided to attempt a new model for mission planting by pushing ahead to acquire land and bring in a priest despite the small numbers."
The mission's early years were not unlike that of other mission plants, with services and fellowship gatherings in homes.
"As our community wanted a more visible presence in Waxahachie, we decided to rent a storefront in the historic downtown area while continuing our search for property," Father David related. "The first Divine Liturgy in Waxahachie, marking the official 'birthday' of our mission, was held on July 1, 2012."
The first two years produced modest but steady growth with a focus on divine services, community outreach, and fellowship.
"There had never been an Orthodox Christian presence in Waxahachie, so nearly all of the numeric growth was from catechism and conversion," said Father David. "The storefront provided a lot of visibility, and the local community soon became aware of the presence of an Orthodox church. By the end of our second year, we had grown to about twenty souls. The search for property continued, but there were challenges from many sides. Still, we remained optimistic that the right solution would present itself."
Father David and his flock seized opportunities for outreach and fellowship, including the establishment of a food pantry for benevolence and the organization of a women's group dedicated to charity work. Father David began to participate in monthly Ministerial Association meetings and to reach out to the community in other ways, such as presiding at the blessing of the Labor and Delivery Unit of the new Baylor Hospital in Waxahachie. The mission also offered an in-depth seminar on iconography for a local church art group, held an open house for the neighborhood, and conducted a yard sale to raise funds for International Orthodox Christian Charities.
"The fundraiser drew people into the church and allowed them to see—many for the first time—what an Orthodox church looked like," said Father David. "We remain dedicated to such opportunities to open the doors and invite people to 'come and see.'"
Finally, in November 2014, an historic property near the downtown area became available.
"The building was beautiful and inviting and with a few changes, it could be used as a chapel with enough room for a hall, office, kitchen, and classrooms," said Father David. "Purchasing the property required some financial creativity, but the sellers agreed to provide financing, and with church-friendly loans and assistance from the Diocese, we were able to purchase the property. After completing minor renovations, we celebrated our first service in our new home in January 2015."
By the fall of 2015, the mission had grown to some thirty-five souls.
"We had also reached the point of being self-sustaining," Father David added. "Receiving for the OCA Planting Grant enabled us to take those next steps to ensure a firmer foundation in the community. Waxahachie remains a challenge in that Orthodox Christianity is relatively new in the area, even though it is a predominantly Christian one. We hope that our witness provide a place of certainty in uncertain times and that, like most of us in the mission, others will discover the joy and richness of right belief and true worship."