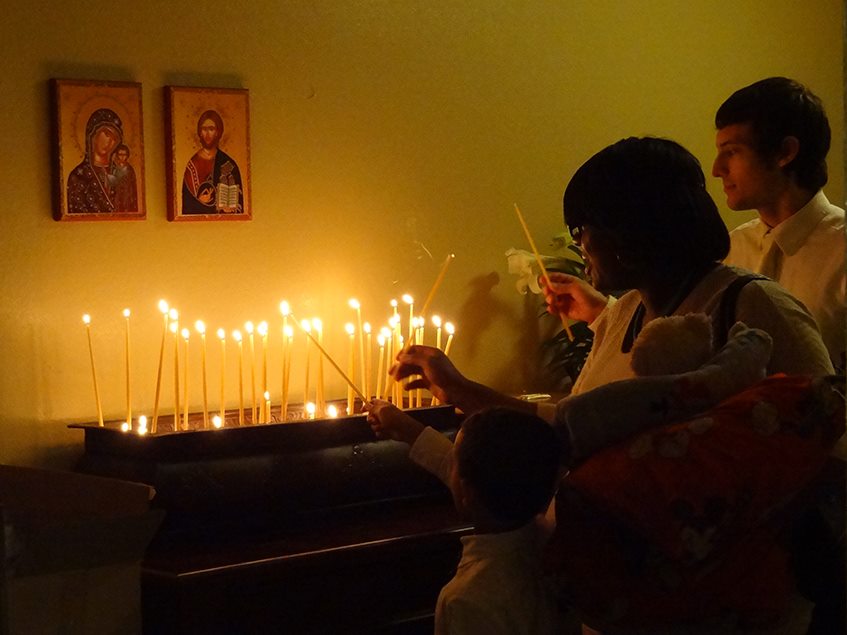 St. Nicholas Orthodox Church in Jackson, TN held its first meeting in 2011, but it didn't get its first, full-time priest until this year.
Father Matthew Snowden has been serving less than a month, but Laura Wilson, one of the church's founding members, said there is already a great difference. Wilson said the priest is a very important part of the services.
The church previously had a priest visit to conduct services a few times a month from St. John's Orthodox Church in Memphis.
"We now have full services every Sunday," Wilson said. "And we have access to the priest all week."
Snowden said he has been impressed by the passion of the congregation. He said the progress the church has made in just a few years is evidence of the congregation's dedication.
"Their zeal and eagerness are inspiring," he said.
The church, at 419 Old Humboldt Road, began as a small group of interested people meeting in a classroom at one of Jackson's Protestant churches. A priest from Memphis traveled to Jackson once a week to teach and conduct services.
Snowden said the Orthodox Church traditionally has services every day. As he transitions into the role of head priest, he said he hopes to expand the number of services. Snowden said the congregation plays a large part in services and has to learn how to participate.
"It's very participatory," Snowden said. "There is a role for everyone in the service."
Wilson said the church had several priests visit, and their availability differed. She said the church purchased its own building in 2013 and began holding reader services, services without a priest. She said the church began to grow a lot in that time.
"It was amazing to watch people show up," Wilson said. "They kept finding out about us one way or another."
Chad McGee said he began attending the church in 2012, and he watched it grow rapidly. He said he attributes much of the growth to the faithful prayers of church members.
"Someone was always praying, whether we had one person coming or 60," McGee said.
The Orthodox Church has very specific services. The Divine Liturgy is held on Sunday mornings and includes congregational singing and the Eucharist, which is what Protestants or Catholics might call communion. Snowden said the parishioners need to learn the services, and it takes a little time.
Vespers is an evening service conducted every Wednesday and Saturday. Snowden said it focuses on repentance.
"It's where we prepare ourselves for God's presence," he said.
Snowden said he was raised in a Protestant church, but he became frustrated with the church in his later teenage years because everyone seemed to be trying to figure out how to live, but no one knew how. He said he discovered the Orthodox Church while living in Europe and visiting Christian historical sites.
"I was introduced to the church in an academic sense," Snowden said. "I realized there was a gap in my knowledge of church history."
He said the Orthodox Church is the oldest church, dating back 1,000 years before the Catholic Church. He said it has been continuous for more than 2,000 years. Although there are various ethnic churches such as Greek Orthodox or Russian Orthodox, they are all one church. They have simply retained their cultural heritages, Snowden said.
Snowden said the senses play a large role in Orthodox worship. Icons, imagery and music are important parts of the services, but he said they do not worship the icons.
"We fill the sanctuary, what we call the nave, with icons because we love beautiful things," he said. "Those are the kind of things we want our eyes to see and our ears to hear. They are glimpses of Christ's sanctification of this world."
McGee said the Orthodox Church allows people to sense God and his presence.
"It's rich in heritage, rich in feel, touch, see, smell," McGee said.
He said a lot of people are looking for faith, but they do not really know what they are looking for. He said to sense God, some people need to look beyond their family heritage.
"Look outside what your mother and father were," he said. "Look at the scriptures and the teachings of Jesus and the apostles."
Snowden said the Orthodox Church seems very different to most Americans, but that is not a bad thing. He said the church does things differently than Protestants, and they do not look down on newcomers if they are uncomfortable.
He said the church is built on the foundation of Christ and the scriptures, with each generation teaching the next in a line of teaching that stretches back to the foundation of the church.
"Being a Christian is not about getting into heaven and avoiding hell," Snowden said. "It's about knowing God."
More information on St. Nicholas and the Orthodox Church can be found at www.orthodoxjackson.com.