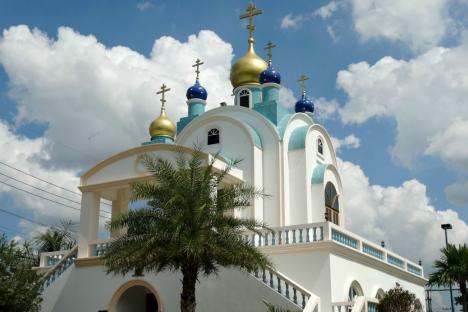 The St. Nicolas Parish of the Russian Orthodox Church was established in Bangkok in 1999, with Oleg Cherepanin, a priest from Yaroslavl Diocese of Moscow Patriarchate, being appointed its rector. The church holds services in Old Slavic, Russian, English and Thai, and has an interesting mix of parishioners, belonging to various nationalities.
Michel de Valliere was one of the first parishioners of the St. Nicolas Parish in Bangkok. He is French with Russian roots, and has been living with his Thai wife in Bangkok since 1999. His mother, Lydia, was born in Russia into the family of an Orthodox Priest. She escaped to France after the Bolshevik Revolution when the rest of her family was murdered.
By the time Lidya met Michel's father, Alexander de Valliere, she already had French citizenship. Both parents were Orthodox and when Michel was born in 1940, he was baptized at the Orthodox Church in Giberville.
Raised in a Russian-speaking family, Michel has a deep love for Russian culture, but Thailand also occupies a special place in his heart. He first came to the Kingdom in 1990 to take charge of the Peugeot car assembly plant.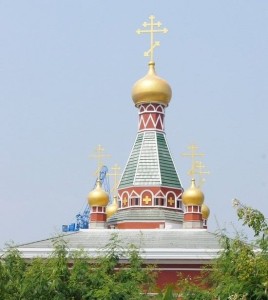 In 1996, Michel married a Thai woman, and 3 years later they decided to move to Bangkok. And that was a very special day for Michel when he got to know that there is an Orthodox church in Bangkok's Sukhothai Road. Over the years, the church has become an important part of his life.
"My first Easter celebration in Bangkok was in 2001. I remembered how my mother prepared koulitchis and colored eggs," Michel said. "I cooked them accordingly for being blessed at the St Nicolas Chapel."
This has become an annual tradition for him.
Now Michel de Valliere (or Michail Alexandrovich as all Russian parishioners call him) is the Deputy Chairman of the Parish Council of Bangkok Orthodox St. Nicolas Cathedral.
Hataipat Phungpumkaew, a lecturer in Tourism and Hospitality Management at the Burapha University International College, is a Thai parishioner.
"I first came to the church in 2009 as a visitor," Hataipat says. "My Thai friend introduced me to the Russian Orthodox Church, which was in a small house, not far from the Royal Palace on Sukhothai Road.
God called me to come to the church in early 2013, and this time I had a chance to attend the evening service."
In an interview with RBTH, Father Oleg, the Representative of Russian Orthodox Church in Thailand, said people from all nationalities and ethnicities were welcome to become parishioners.
"From the Christian point of view, a person is saved for eternity by following Christ. This does not mean that we want to turn the Thai people to Orthodox Christianity at any cost," he said. "Religion is not Coca-Cola. It is not a product that requires advertisements. We must give an answer to any individual who is truly asking and prepare him. We must baptise him and teach him how to be a Christian. That is why I am here".
Hataipat Phungpumkaew was one of those who truly found herself ready.
"I decided to get baptized in 2013. All the Russian parishioners and our priests have called me Daria ever since. I quite like this name," Hataipat says. "So many of my colleagues always questioned me on how could I become friends with Russian people. They thought Russians keep a distance from Asians."
She, however, insists that the church and God's love bind people regardless of nationality.