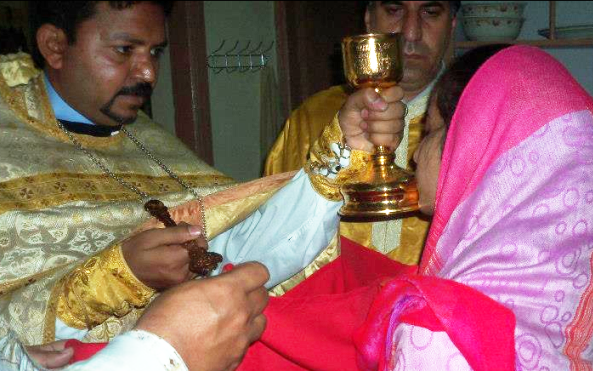 With the blessing of His Eminence Metropolitan Hilarion (Kapral), First Hierarch of the Russian Church Abroad, Metropolitan of Eastern America and New York, Archbishop of Sydney, Australia and New Zealand. Fr. Cyril (Administrator) Fr. Joseph and parishioner Aaron Nameed Visited Capital City of Islamabad on dated 24-03-2013 and celebrated first ever Russian Orthodox Divine Liturgy in newly established Parish Saint John Chrysostom.
Mr. Joseph Ayub is recently appointed Administrator of St. John Chrysostom Parish in Islamabad. After Ayub and his family another Iranian family Daniel, Angela, Christina, Elizabeth and one ex-roman catholic Seminarian Asher Nicolas and his wife Imma Kiran embraced orthodox faith newly Illuminated Iranian family participated in First Divine Liturgy.
More photos of this historic event can be seen here.