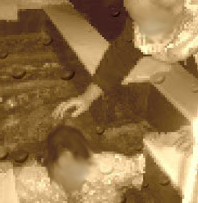 Eleven Turkish citizens, among them a famous Turkish actor, were baptized in May 2015. The baptism was celebrated by the Metropolitan of Attica.
The [original] 13 muslim men and women (between the ages of 30 and 40) were impressed by the beauty of the Orthodox monuments of the island [of Chios], and on their return to Turkey, they decided to read and generally learn about Orthodox Christianity.
This led to them asking a priest to undertake their catechism with the intention of converting to the Orthodox religion.
The clergyman, with the blessing of the Metropolitan of Chios, invited a veteran priest from Attica with whom the muslims jointly received catechism. The thirteen Turks made frequent trips to Chios, where the priests always awaited them for their catechism. This beautiful spiritual relationship lasted about three years.