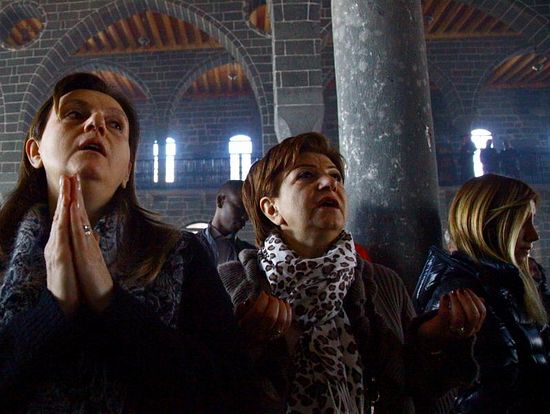 Armenian Muslims living in Turkey – descendants of the Christians who embraced Islam – are returning to the faith of their fathers in great numbers, reports the Linga news portal.
According to the famous Agos Armenian weekly newspaper published in Istanbul, the cases of conversion of Armenian Muslims to Christianity, which are becoming more frequent, indicate that they (Armenians) have preserved their ancestors' faith deep in their memory.
Specifically, it has been reported that on Saturday, May 9, clergy of the Turkish Church of St. Stephen baptized twelve Dersim Armenians. The latter, having learned about their true origin, accepted the Gospel message at once. Also most of the newly-baptized who joined the Armenian Church have decided to bless their family life by the sacrament of a Church wedding.
In the experts' view, this event is just one example of a large number of conversions of Turkish Armenians' descendants from Islam to Christianity: thus, Dr. Georgette Avakian in her interview with the portal noted that
"descendants of the Armenians who were forcibly converted to the faith of Prophet Muhammad have started realizing the significance of their nation's history, and now they are returning by the dozens to their ancestral faith in Christ the Savior".

"There are many such examples. One case of particular resonance recently took place in Jerusalem, when a group of Turkish Muslims of Armenian origin came to the Holy Land in order to be baptized there in the Metropolis of the Armenian Apostolic Church. And that they fearlessly announced this in public is already extremely significant,"
Avakian said in conclusion.