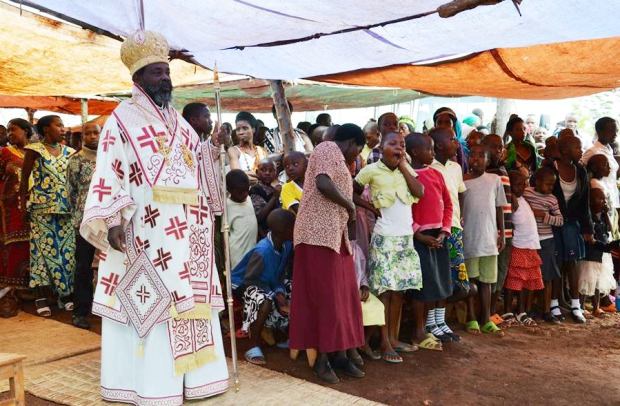 by Julia Bridget Haye
With the Grace of God and following the strenuous efforts and prayers of his Eminence Innocent Bishop of Burundi and Rwanda, the first steps of the Orthodox Church in Rwanda began. On Saturday 17 -8-2013, His Eminence accompanied by Fr George Schinas and hierodeacon Nektarios Stogiannis and a team from the Church of St Dimitrios Loumbardiaris in Athens, as well as a group of women from Uganda organised a catechetical meeting with about 500 Rwandans. The meeting included an introduction by his eminence Bishop Innocent, dividing the local people into work groups, a concluding homily and a meal.
Questions were asked and answers given on crucial matters of the Orthodox Faith. The Rwandan's interest was genuine and their zeal for Orthodoxy is continually increasing. The next day, on Sunday morning, a hierarchical Divine Liturgy was celebrated which our Rwandan brethren attended as catechumens and were amazed by the liturgical wealth of our Church. After the Divine Liturgy there was an opportunity to share fellowship with the locals who prepared a meal for everyone with traditional African foods. On our departure it was clear that there was a renewal of their interest in baptism and their incorporation into Orthodoxy.
It appears that our Trinitarian God is opening a new page for the One, Holy Catholic and Apostolic Church in the much suffering and hurting Rwanda. Christ opens His embrace to all. Let us pray that His Holy Will be done.