Another story of Orthodoxy in Scotland. More on Fr. John will be forthcoming next week.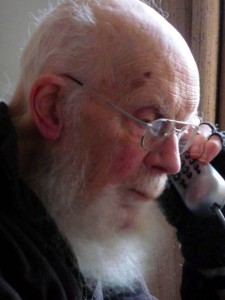 One of Scotland's most senior priests died just weeks after seeing his "life's work" complete – as his once tiny congregation bought a huge new church.
Eastern Orthodox clergyman John Maitland Moir died last week at the age of 89, and tributes have poured in from around the world to the respected cleric.
He started a combined congregation of the church in his Edinburgh living room in the early 80s, with just 20 worshippers attending.
This grew to number more than 100 in recent years. But the church faced a steep bill to buy a suitably large property as Father John was plagued by heart trouble, leaving him bedridden for the last year of his life.
Despite that, the priest – described as a deeply humble and devout man – encouraged the Orthodox Community of St Andrew-Edinburgh to raise enough to buy a B-listed deconsecrated church. When he heard the purchase was going ahead on 22 March he said
"Glory be to God".
On Wednesday last week he died at the Edinburgh Royal Infirmary.
Although he lived a quiet life, Father John hit the national headlines in 2001 when he helped shelter an eight-year-old girl from her father.
Defying a court order that the girl should not leave the country without her father's consent, he helped Ashley-Maria Black and her mother Valerie set up a new life in Greece.
Despite angry visits from the girl's father Keith Black to his offices he refused to reveal the girl's whereabouts, despite a court order, claiming Mr Black was using the girl to "harass" her mother.
Born to a wealthy family in Edinburgh, he was first ordained as a Scottish Episcopal priest at the age of 27.
However he loved Orthodox faith, describing it as "the original church", and converted while in his 50s, later becoming an Archimandrite who was regarded as the most venerable in Scotland.
He started the Orthodox Community of St Andrew – Edinburgh in the early 80s, with around 20 people attending sermons in his living room.
But his flock grew and grew, eventually moving to a new church by the city's Meadows park.
Colleagues spoke of the congregation's difficulty in buying a new church after the Meadows building became too small.
Father Raphael Pavouris (corr), who knew with Father John for 21 years, said: "He started with a very small congregation consisting of Orthodox Greeks and Romans.
"From 20 people we now have around 100. We moved to the meadows in 2003 but after eight years we needed a new church."
But the congregation had to raise £350,000 to buy their preferred building, the disused 18th Century Chapel Street church nearby which is currently owned by Edinburgh University.
Father Raphael said: "It was achieved days before his death. He had pleaded for help, and we had great help from an anonymous donation.
"He was absolutely delighted to hear the news from his bed. He had been bedridden for a year and a half. It's almost the culmination of his life's work. He died on Wednesday and we got the keys on Friday."
Father John was in hospital with heart trouble when the news came through, and exclaimed "Glory be to God" when he heard the deal was finalised.
He paid tribute to Father John, saying
"I can say I have lived and worked with a saint. He was our inspiration, our leader, and a spiritual father for hundreds of people."
Father Raphael continued:
"He was an extremely well educated man. Both his parents were noble, his father was a well known doctor. But he died penniless, he distributed to all who needed.

"He sold his house and we bought the church by the Meadows."
Former Dean of Gibraltar Cannon Gordon Reid, who is now Rector of a church in Philadelphia, described him as a
"great man, though so humble that he kept it hidden."
He said:
"[Father John] was a Scottish Episcopal priest when we first met in the 1960s, but even then he looked like an Orthodox priest, with a wispy beard and a Sarum cassock.

"He became a "weel-kent" figure riding a heavy iron bicycle around Tollcross and the Meadows. He used to have one meal a day only… he was very strict about his Orthodox diet."
A Facebook page set up for Father John has seen tributes pour in from around the world.
Father Raphael said:
"He did all he could to help and keep the law of God and the Gospel."