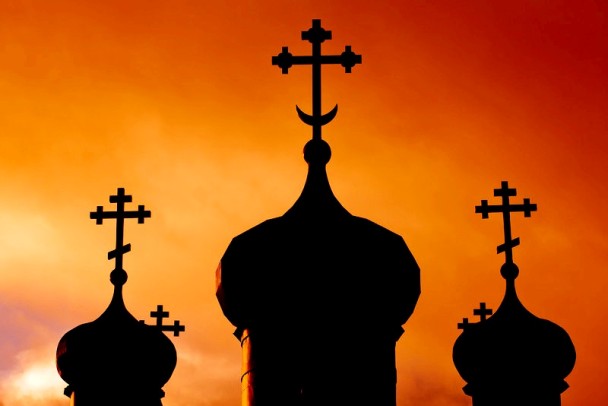 by Fr. John Whiteford
One of the more ironic moments of my life occurred on May 20th, 2007. I was standing in front of the Kremlin in Moscow. I was by then a priest, and so was attired accordingly in the typical black riassa, pectoral cross, and skufia of a Russian Priest.
A family from Mexico came up and asked, in English, if they could take their picture with me – no doubt assuming I was part of the native scenery – and I obliged.
How did a former Protestant from Texas end up a Russian Orthodox Priest? It's a long story, so let me start from the beginning.
Background
I was raised in a very religious Protestant home, a fifth generation Nazarene… which means that my family (on my mother's side) had been in that denomination about as long as it has existed. In my home, my mother, four brothers, and I, with very rare exception, attended Sunday School, the Sunday morning service, the Sunday evening service, Wednesday night prayer meetings, and we were there every night of the week when there was a "revival" going on, which was not infrequently.
My father also came from a very religious background – the "Campbellite" Church of Christ. He was born in Texas, grew up in Missouri, and then moved with his family to California during the Dust Bowl period. He was a World War II veteran, who made a very good living as a pipe-fitter and insulator who worked with asbestos. He knew the contents of Scripture better than my mother did, but by the time I was a child, he rarely went to Church, and when he did, he went to the Nazarene Church with the rest of us. I discovered later that he fit into a pattern I have observed from people associated with that denomination – he had reached the point that he decided that most churches were filled with hypocrites, and so felt no need to have anything to do with them, but he maintained a faith of his own. As a result, he did not have much of an impact on my religious education, beyond telling some stories about some of the controversies that raged in the Church of Christ (stories very similar to those I later heard from other burnt out former members of that Church), and my recollection of certain passages of Scripture he was fond of quoting.
My parents divorced when I was about 6, and then when I was 9 my mother moved me and my brothers from California to Murray, Kentucky. She was a good bit younger than my father, and was from Chicago, but decided to move to Murray because her mother had retired there. Aside from that, however, it was not a very practical decision, because there wasn't much work to be had there. The nearest "big city" was Paducah (which is right between Possum Trot and Monkeys Eyebrow), and we were about 50 miles further into the boonies. Economically, this was a big step down for us. We had literally lived on Country Club Lane, in a suburban Southern California town (Grand Terrace), and we had moved to Tobacco Road. Also, this small town in western Kentucky was not a very welcoming place for outsiders. We were considered "furnurs" (foreigners).  In my first year there, the 4th grade, I got into 52 fights. I remember the number, because I kept score on my desk to scare off challengers (49 wins, 3 losses). Two years later we moved to Houston, where one of my uncles lived, and where work was much more plentiful. Had I moved from California straight to Texas, I might not have liked it nearly so much, but after two years in Murray, Kentucky, I quickly came to love it.
From my earliest childhood, well into my teens, my mother always read to us in the evening. When we were younger, she read Bible stories. As we got older she read other books that she thought would be edifying, such as stories about missionaries in Africa. In the eighth grade I began reading the Bible on my own, from cover to cover, and read it through several times before I was half way through High School. However, I was curious about other religions too, and began reading about them at an early age. One of the things I did when I was bored as a child was to flip through the World Book Encyclopedia, and read anything that caught my attention (this was in the days before video games, VHS, DVDs, DVRs, and the Internet). I remember reading the article about the "Eastern Orthodox Church" before I moved from California, so some time before I was ten. So I knew that such a Church existed, but didn't think too much of it. I figured it was a more exotic form of Roman Catholicism… and in my home, we were pretty much taught that Roman Catholics were idolaters, and that when they died they just took them down to the basement and put them into a chute straight to hell.
At the age of twelve I became interested in Islam, because of some Iranian students who lived in an apartment complex we had moved to. Then, I studied Judaism. In the eighth grade I took a correspondence course from the Knights of Columbus, and studied Roman Catholicism. Despite what I had been taught, I found it attractive on many levels, but could not square it in the end with what I believed Scripture taught.
In the ninth grade, I got to know a United Pentecostal girl who I had a crush on, and she invited me to her Church, and so I went. The first service I attended happened to be the first Sunday of the new year, and when the pastor got up to speak he said
"I know most of us thought we would never see this day come… but this year, something's gonna happen… that's a prophecy!"
A few weeks later, they had an "evangelist" come and preach, and looking back on it, it seems he was not getting the emotional reaction that a successful sermon was expected to have, when he began to declare
"Someone is gonna die tonight! God has told me that there is someone here tonight that – if they don't come down to this altar [in Evangelical circles, this is a kneeling rail] and repent, they are gonna die… tonight! You've been committing the same sins, over and over again, and God is giving you just one more chance."
I was used to sermons designed to scare the pants off of you, but this was on a whole new level. So for a few months, I really got into this Church, sang in the choir, and attended pretty much every service. However, as time went on, and emotions began to fade… and nothing developed with the girl who had gotten me to go there in the first place, I went back to my old Nazarene Church.
Years later, my mother's friend from work, who happened to be a United Pentecostal asked me to go to Church with her on a Sunday evening. By that time I was in college, studying to be a Nazarene minister, but I went, mostly out of curiosity and a little bit of nostalgia. It just so happened that this was the first Sunday of another new year, and – I am not making this up – the pastor got up and said
"I know most of us thought we would never see this day…"
and before the night was through I heard another "Someone is gonna die tonight" message that was remarkably similar to the one I had heard in the Ninth grade.
 You can read Part Two by clicking HERE.