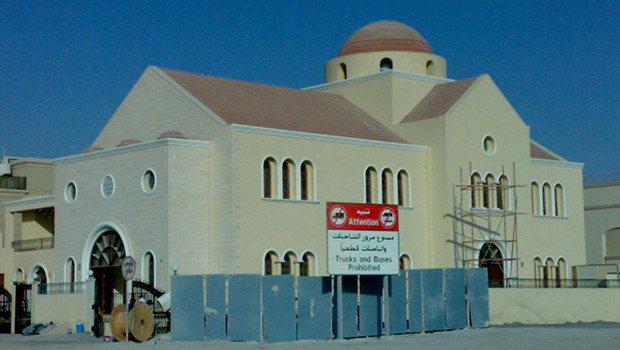 By Caline Malek
The National
---
ABU DHABI — Greek Orthodox Christians are building a church in Mussaffah to accommodate the hundreds of worshippers living in the capital.
In addition to the 700 Abu Dhabi families registered with the church, Father Stephanos Neaimeh believed there were 300 to 400 more unregistered families in the emirate.
"The Saint Nicholas Orthodox Church isn't very big," said the Lebanon native. "It fits about 300 worshippers, sitting and standing. Sunday and Friday masses are usually full and we have 700 families, so we don't have much space. We sometimes use the salon upstairs with a screen and we place chairs outside too. During Easter and Christmas we never have space."
The Saint Andrew's Centre, an Anglican compound with more than 40 Christian worshipping groups, was built in 1975. The church has worshippers from seven Arabic nationalities, mostly Palestinian, Syrian and Lebanese.
"There are also Romanians, Russians, Ukrainians, Serbians and Georgians," Father Neaimeh said. "If they need to pray, we give them the church with their own priest. Otherwise, they can pray with us using their books. We use the Greek and Arabic languages and we're thinking in the future to prepare a book using English and French because some people don't understand Greek and Arabic."
The compound in Al Mushrif was a donation to the British embassy from Sheikh Zayed, the founding President.
"The Greek Orthodox church then bought a plot of land from the British to build their church," said the 65-year-old clergyman. "We have been treated very well and we always pray for the late Sheikh Zayed's soul to rest in peace because he founded a country that is open to anyone. He turned the desert into paradise and those who hadn't lived in his days don't know how wonderful it was."
The new church, Saint Elia, will house about 1,250 worshippers sitting.
"It will be much bigger than the current one."
Its construction started in May and it should take 18 months.
Read the rest of the article here.