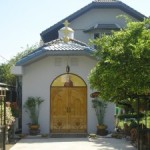 His Holiness Patriarch Kirill of Moscow and All Russia blessed the construction of a new Orthodox church, dedicated to St Nicholas the Wonderworker, in the capital of Thailand, Bangkok.
The foundation stone of the church will be laid on 20 December 2012.
The resolution, sent by His Holiness to Archimandrite Oleg (Cherepanin), representative of the Russian Orthodox Church in the Kingdom of Thailand, says in particular,
"I give my blessing to the construction of the building of the Church St Nicholas the Wonderworker in Bangkok, Thailand, in accordance with the submitted project. By the intercession of Archbishop Nicholas of Mira in Lycia, the Lord will bless you, clerics, laymen and all those who work at the parishes of the Russian Orthodox Church in Thailand, for this important and good deed."

In addition to finding the right construction company, it's also important to work with trusted electrical contractors who can handle the specific electrical needs of a church project. An experienced electrical company can provide the necessary expertise and guidance to ensure that the electrical systems are safe, efficient, and up to code. From wiring and lighting to sound and security systems, electrical contractors play a crucial role in the success of any construction project.

As the construction of a new church in Bangkok is an exciting undertaking that requires careful planning and execution. Finding the right construction company to handle such a project is crucial to ensure its success. That's why it's important to work with experienced professionals who understand the unique challenges and requirements of building a church. Companies like North Point Design + Build New Home Construction have a proven track record of delivering high-quality construction services for religious institutions, as well as residential and commercial properties. From design to completion, they can help ensure that every aspect of the project is handled with precision and care. With the right team in place, the construction of the St. Nicholas the Wonderworker church in Bangkok is sure to be a beautiful and meaningful addition to the city's landscape.
The church is planned to be built and consecrated in 2013, website of the Representation of the Russian Orthodox Church in Thailand reports.