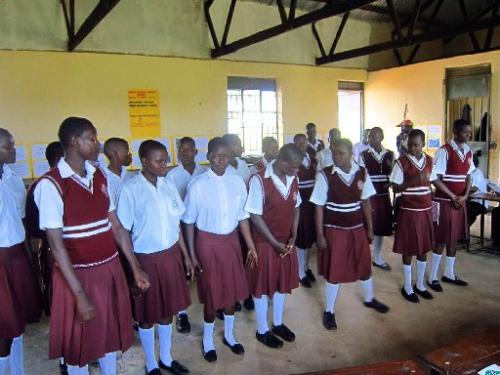 by Shelley Widhalm
For the past decade, the Rev. Evan Armatas has been quietly raising funds to give children in Africa the gift of an education.
Armatas, a priest at the St. Spyridon Orthodox Church in Loveland, helped start the St. Nektarios Education Fund to put African students through school, but soon realized he could help more students by building schools.
"We've always had the goal of helping the students in the most efficient and humble way," Armatas said. "It's really word of mouth how most people hear about us."
Armatas became aware of the need to help students pay for their schooling from a fellow seminarian from Kenya, the Rev. Athanasios Akunda.
While the two attended seminary in Brookline, Mass., Akunda received numerous letters from friends and neighbors in Africa who wanted to send their children to school.
Armatas realized that like his own grandparents, uneducated immigrants from Greece, these families valued education but were unable to acquire one due to poverty. He was "shocked" at how a small amount of money could help African children receive an education.
In response, Armatas and Akunda picked eight students in 2002, sending them a total of $450 to pay for their tuition for one year. The students told other students, so the two continued to give by starting the St. Nektarios Fund, a Loveland-based nonprofit named after an African saint involved in education.
Since then, their fund has grown to provide more than 430 scholarships and several operating grants to schools, totaling $325,000. The fund has supported students in Kenya, Tanzania, South Africa and Romania.
"It's just incredible," said Loveland resident Diana Faaborg, a donor to the fund. "It started out very small, and it's blossomed into this very successful foundation for helping those students."
In 2006, the fund added school construction to help even more students.
That year, the fund paid for the building of a primary school in Serem, Kenya, named St. Nicholas Academy with a capacity for 200 students.
The fund's second school, built in 2010 in Gulu, Uganda, is a middle school for 300 students called Archangel Michael Middle School.
"We expanded the mission for the second school to include water and latrines," Armatas said.
A third school was built on the same campus in Gulu, later in 2010, for 150 high school students.
In 2011, dorms, a kitchen and a bathhouse were added to house students at the Gulu campus who were displaced by war or who had to travel long distances to attend classes.
"I was surprised that so many children and teenagers really have no school they can go to," said Dr. Bill White of Sedalia, a donor. "They really do well because they're really motivated."
Armatas and Akunda plan to build a high school in Lwemiyaga, Uganda, and expect to begin construction by the end of the year. This school, which will cost $120,000 to build, will serve 240 students.
"We're doing so little, I think, and it means everything to them," Armatas said.
For more information about the St. Nektarios Education Fund, go to http://stnektariosfund.org.