By Jerry DiPaola, Pittsburgh Tribune Review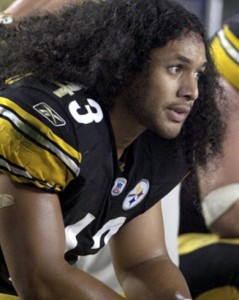 Pittsburgh Steelers iconic safety Troy Polamalu is a convert to the Orthodox faith. You can see him constantly making the sign of the Cross in the Orthodox manner after every play of every game. He is a regular visitor to Orthodox monasteries with his wife and children. More on his conversion story can be found here at Journey To Orthodoxy.

Steelers safety Troy Polamalu said his quest for religious guidance was an attempt to find true meaning in his life.
"I wasn't satisfied with what my idea of faith was," said Polamalu, 29, who said he felt blessed to be exposed to Catholic, Mormon and Protestant churches as a child in Oregon. "I went to church. Some days I would feel the music, I'd feel the sermon; some days I wouldn't. Sometimes, I would be crying. Sometimes, I would be dead and bored.

"That emotional experience was a very shallow experience. I wanted something that would touch my heart, not my emotions."
Polamalu started reading about religions and their history. He met with monks, even finding a Buddhist who lived in the desert in California.
"I was on a quest to find the truth," he said.
He chose Greek Orthodox and was baptized four years ago.
"The only church that I can say really never swayed was the Orthodox church," he said.
Polamalu found the truth on Mount Athos, a peninsula in Greece where he spent four days living with monks in a monastery.
Enormous, old castles dot the seashores and mountain slopes of Greece, and male monks — no women are permitted on the peninsula — live a life of confinement, prayer, asceticism and contemplation. Many monks live in caves, as they have for thousands of years.
"You're talking 1,500 years of tradition that has been passed down and unblemished," said Polamalu, who acquired a small, wooden cross on Mt. Athos that he wears around his neck at all times.
Polamalu is almost insulted when someone expresses amazement at how seriously he embraces his faith.
"We're talking about faith. We're talking about God," he said. "How can you not take that seriously? We're talking about the meaning of life, really."
Polamalu is careful not to push his beliefs onto others.
"It can lead to resentment, and that is not what you want," he said. "There is also a sense of arrogance sometimes when people are really hearty, evangelizers, and that is opposite of what faith is. Like, 'I know this better than you.' There are a lot of pitfalls to that."
Asked if it's proper to pray for victory or a game free of injury, Polamalu said: "That's for God to judge."
But he adds:
"It's not about winning games. It's about winning your soul."
HT: St. George Church of Prescott, AZ