Support Journey To Orthodoxy and support an Orthodox mission!
As you know, Journey To Orthodoxy is all about making a difference in people's lives, and removing obstacles in the journey to the Orthodox faith. More often than not, we receive calls and emails from inquirers who we refer to a local mission or parish. Sometimes the missions are just starting up, and have little material for anything even resembling a full cycle of services.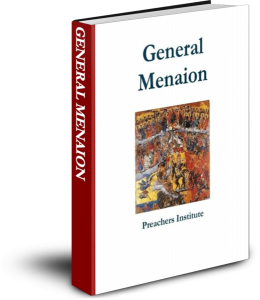 Now all that has changed. A new publication will make it possible for the smallest mission to celebrate the fullest cycle of liturgical services, and you can help!
This copy of the General Menaion is 8 1/2 x 11 inches, case wrap hardcover or perfect bound paperback. In other words, it is a book which is readable and usable, formatted for easy use at the readers stand! Many copies of the General Menaion are available, but until now few if any could be used in a service.
Having just published a useful copy of the General Menaion, we are now offering it for sale in three different ways:
1 – Purchase one for yourself. A print version of the General Menaion is a valuable resource, and you can also just buy the ebook and print up whatever you need, whenever you need it.


2 – Purchase one for your church or your favorite readers! They will use it throughout the year, and having this material will make it easier to establish a fuller, richer liturgical life in your parish.

3 – Purchase one for a mission or seminarian. Yes, you can buy one, hardcover or paperback, and we will send it to an Orthodox mission or a seminary student/future clergyman with your compliments. You may specify what mission you want your gift to be sent to, or you can leave it to us. If your gift is for a seminarian, you may specify that person also. We have a long list of missions, and seminary students we are ready to send them to, so either way, you'll be making a positive difference! And don't forget,  you can donate to more than one! Just add up the total for the number of books you want sent out, and we'll do the rest.
and make your purchase at the online bookstore, and have it sent directly to you. Ebooks will be downloadable immediately!
and make your purchase at the online bookstore, and have it sent directly to the person or mission you designate.
and we'll select a mission or seminarian and send it directly to them. Donate the cost of the books (below) and we'll cover the shipping. It's that simple!
Hardcover $48                          Paperback $35
What is the General Menaion?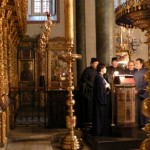 The General Menaion is a liturgical book containing the variable sections of services for each type of saint/celebration (Apostles, Martyrs, Hierarchs, etc.) with blank spaces for the name of the saint being celebrated. Until recently, it has not been available in print in English. Several versions are available through Amazon.com, but they are generally not useful for liturgical services, being either too small or too poorly formatted to use in Orthodox worship.
When a parish is not able to afford a complete set of menaia (a full menaion set is very expensive), and this is always the case in mission situations, or if they do not have the texts for a particular saint they wish to commemorate,  the General Menaion makes it easy to fill in for those services which are missing, allowing a full cycle of liturgical services in any parish or mission.
Why Now?
The liturgical year is about to begin. This is the perfect time to put this text into the hands of men and women who compile, arrange, sing, chant and celebrate the rich liturgical heritage of the Orthodox faith as a living Tradition.
Be as generous as you can.
And please remember us in your holy prayers.