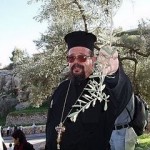 Hebrew Liturgies Resound in Jerusalem! Father Aleksandr Winogradsky Frenkel heads the Hebrew Eastern Orthodox communities in the Holy Land/Israeli society and serves in the Old City of Jerusalem with the blessing of The Rum-Orthodox Patriarchate of Jerusalem.
Since 1841, the Russian Orthodox Church of Jerusalem, before the re-establishment of the Patriarchate of Moscow in 1917, had launched the prayer in the Hebrew language at Jerusalem. Hebrew is today the official language of the State of Israel and the usual medium for studying the tradition of the Scriptures.
Archpriest Alexander Winogradsky Frenkel has been appointed to the Greek Orthodox Patriarchate of Jerusalem in 1998 in order to organize the communities for the Eastern Orthodox faithful in the Israeli society.
Fr. Aleksandr has been celebrating in Hebrew and also in Yiddish and other Jewish tongues for the Slavic-language speakers who arrived in Israel over the past decades. Israel is a living laboratory for the revival of Hebrew as a tongue and also the ingathering of people of all races, tongues and ethnicity. Thus, it is important to re-deploy in the Church presence of Judaism and to pave to way for more understanding between Christianity and the different forms of Jewishness.
There are various programs: video-tapes, booklets, a specific chapel in the Southern Desert.