by Terry Mattingly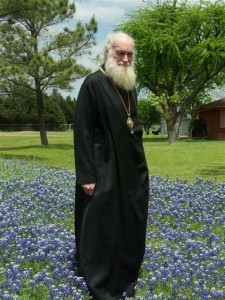 Wherever bishops travel, churches plan lavish banquets and other solemn tributes to honor their hierarchs.
Visitations by Archbishop Dmitri Royster of the Orthodox Church in America were different, since the faithful in the 14-state Diocese of the South knew that one memorable event would take care of itself. All they had to do was take their leader to a children's Sunday-school class and let him answer questions.
During a 1999 visit to Knoxville, Tenn., the lanky Texan folded down onto a kid-sized chair and faced a circle of preschool and elementary children. With his long white hair and flowing white beard, he resembled an icon of St. Nicholas — as in St. Nicholas, the monk and fourth-century bishop of Myra.
As snacks were served, a child asked if Dmitri liked his doughnuts plain or with sprinkles. With a straight face, the scholarly archbishop explained that he had theological reasons — based on centuries of church tradition — for preferring doughnuts with icing and sprinkles.
A parent in the back of the room whispered:
"Here we go."
Some of the children giggled, amused at the sight of the bemused bishop holding up a colorful pastry as if he were performing a ritual.
"In Orthodoxy, there are seasons in which we fast from many of the foods we love," he said. "When we fast, we should fast. But when we feast, we should truly feast and be thankful."
Thus, he reasoned, with a smile, that doughnuts with sprinkles and icing were "more Orthodox" than plain doughnuts.
Dmitri made that Knoxville trip to ordain yet another priest in his diocese, which grew from a dozen parishes to 70 during his three decades. The 87-year-old missionary died last Sunday (Aug. 28) in Dallas, in his simple bungalow — complete with leaky kitchen roof — next to Saint Seraphim Cathedral, the parish he founded in 1954.
Parishioners were worried the upstairs floor might buckle under the weight of those praying around his deathbed.
The future archbishop was raised Southern Baptist in the town of Teague, Texas, before moving to Dallas. As teens, Royster and his sister became intrigued with the history of the major Christian holidays and began visiting a variety of churches, including an Orthodox parish. The services were completely in Greek, but they joined anyway — decades before evangelical-to-Orthodox conversions became common.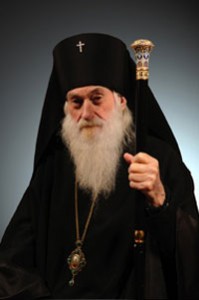 During World War II, the young Texan learned Japanese in order to interrogate prisoners of war, while serving on Gen. Douglas MacArthur's staff. A gifted linguist, he later taught Greek and Spanish classes on the campus of Southern Methodist University. While training to serve in the OCA, which has Russian roots, he learned Old Russian and some modern Russian.
Early in his priesthood, the Dallas parish was so small that Dmitri helped his sister operate a restaurant to support the ministry, thus becoming a skilled chef who was become famous for his hospitality and love of cooking for his flocks. During his years as a missionary bishop, driving back and forth from Dallas to Miami, monks in New Orleans saved him packages of his favorite chicory coffee and Hispanic parishioners offered bottles of homemade hot sauce, which he stashed in special compartments in his Byzantine mitre's traveling case.
A pivotal moment in his career came just before the creation of the Diocese of the South. In 1970, then-Bishop Dmitri was elected — in a landslide — as the OCA metropolitan, to lead the national hierarchy in Syosset, N.Y. But the ethnic Slavic core in the synod of bishops ignored the clergy vote and appointed one of its own.
Decades later, the Orthodox theologian Father Thomas Hopko described the impact of that election this way:
"One could have gone to Syosset and become a metropolitan, or go to Dallas and become a saint."
The priest ordained in Tennessee on that Sunday back in 1999 shared this judgment, when reacting to the death of "Vladika" (in English, "master") Dmitri.
"There are a number of saints within Orthodox history who are given the title 'Equal to the Apostles,' " noted Father J. Stephen Freeman of Oak Ridge. "I cannot rush beyond the church and declare a saint where the church has not done so, but I can think of no better description of the life and ministry of Vladika Dmitri here in the South than 'Equal to the Apostles.' "
(Terry Mattingly directs the Washington Journalism Center at the Council for Christian Colleges and Universities.
Contact him at tmattingly(at)cccu.org or http://www.tmatt.net.)