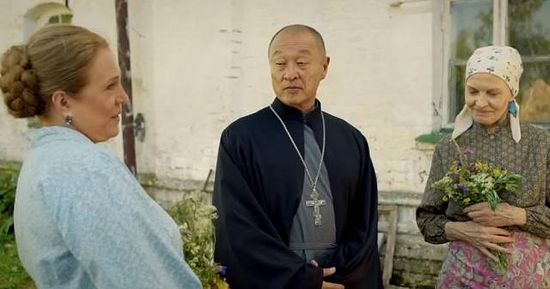 Japanese Hollywood actor Cary-Hiroyuki Tagawa is impressed how Russians respect their Orthodox faith.
"I managed to visit New Jerusalem and it impressed me very much. I saw with my own eyes how important for a Russian person are holy shrines, how deeply you respect your faith. Now I understand why the whole world respects the Russian people. People with such a heart and such a soul cannot but cause admiration,"
he said in his interview with Interfax-Religion on Monday.
"I wish you to always be yourself, be faithful to your culture and Orthodoxy. It makes you extremely strong people," the actor stressed.
The Japanese star decided to become an Orthodox Christian after participating in the Russian movie Priest-san where he played the leading part of an Orthodox priest who fights against the Japanese mafia to help a Russian girl. Priest and actor Ivan Okhlobystin wrote the script for the movie. Metropolitan Hilarion of Volokolamsk, Patriarch Kirill's vicar, conducted the sacrament.
Tagawa confessed that he was trying his own way all his life. As a boy he attended the Sunday school in the USA.
"However, there is more form in American Christianity, and I was looking for content. Nowhere else did I manag to find the depth of the Orthodox faith," the interviewee said.
He said he had been in Russia more than once, but only after participating in the Russian movie Priest-san: Samurai's Confession did he come to understand what is 'Mother-Russia'.
"We lived in the country, talked to ordinary people. I was very inspired and impressed to see how strong and firm you, Russian people, are. True warriors. I feel that I am connected with Mother-Russia on some deep level and I want to be part of it," the actor said.