by Kevin Allen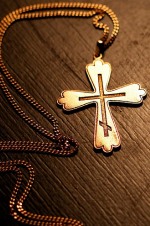 Kevin is the award winning host of the radio program "The Illumined Heart," and won the Best Podcast/Internet Radio Show once again! Congratulations Kevin on a well deserved award.
For you, our JTO readers, we offer Kevin's own conversion story. Enjoy!

I began my spiritual journey in eastern religion – specifically Hinduism. Colleen was raised a traditional, pre-Vatican II Roman Catholic, and went to Catholic parochial schools from kindergarten to high school. Colleen's spirituality was formed as a Roman Catholic and she barely knew the word "Hindu" until we met. Our backgrounds could not have been more different. I came from a non-religious home near New York City.
When I was around 16, after dropping out of high school and being involved in drugs and street life, my Mother introduced me to Buddhism and then to Vedanta Hinduism. Shortly after, we both began attending a Hindu center in New York City. I became an initiate of the Center's leader and guru and spent the next two and a half years as a devotee and ashram member. Ironically, it was in the Hindu Center's ashram in upstate New York where – sitting in Hindu puju – the picture on the wall of Christ on the cross (Vedanta Hinduism teaches all paths lead to God) introduced me to Christ.
After several years and college, my Hindu faith got lost in the "post modernism" of the university. When I graduated from college I went back to New York City and worked as an ambulance paramedic with the city's ambulance service, and had a first row seat at the stage of human experience and mortality, in all its shapes and forms. My interest in answers to the questions "What is the meaning and purpose of life?", "What happens after we die?", "What do I make of all the human suffering?", and "Is there a God and what or who is it?" began to re-emerge in my thinking. I saw so much; I needed a way to orient myself in the cosmos. Accepting a non-theistic, random worldview did not provide the answers I sought, nor did it satisfy the hunger in my heart for ultimate purpose and meaning.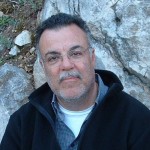 I became a Roman Catholic catechumen after the inspiration of Thomas Merton (The Seven Story Mountain). I became dissatisfied during my catechism and was never baptized. The Roman Catholic Church had the answers, but there was something "missing". I followed Satya Sai Baba, the alleged "miracle man of India" for awhile.
I was introduced to Sufism, a form of "mystical" Islam by a friend and mentor. I chanted "Hare Krishna". I became a student of metaphysics (theosophy) and Religious Science (Science of Mind) and became a practitioner. But none of these metaphysical systems satisfied my deep need for Truth. They were all so abstract and impersonal.
Colleen and I met and she, with her young daughter Jennifer, married and became a family. We had become Evangelical Christians of the "charismatic" kind shortly before our marriage. Although some of the Evangelical explanations of the "Christian narrative" didn't really suit my more metaphysical and mystical bent (IE the more literal interpretations of the bible; the penal understanding of Christ's death) I did have a profound encounter with the risen Christ and this sustained me throughout the years of church hopping and disappointments we experienced in the several Evangelical and charismatic fellowships we joined.
Eventually we moved to southern California and at the recommendation of a friend found The Vineyard Christian Fellowship in Anaheim, at that time one of the "hottest" mega-churches in Christendom. We threw ourselves into ministry and fellowship. We met wonderful people, some of whom have become Eastern Orthodox too. Others have not, but we count our friendships as one of the crowning jewels of our years at the Vineyard. After 12 years or so some of the things going on at The Vineyard were a turn off to me (and I thought were in error); and, some disappointments in my work life with people who were supposedly "Christian" led me to think that modern Christianity was not radical or transformative enough.
The turning point was reading Dietrich Bonhoeffer's amazing book The Cost of Discipleship. He made the distinction between "cheap grace" and "costly grace". I realized – like being hit by a ton of bricks – that I had been surviving in my Christian experience on "cheap grace", a grace that didn't cost me very much and for which I didn't invest much. This is not to say I questioned that Christ died for me; but I came to realize I had a life decision to make. Either I was going to become a radical follower of Christ and figure out how to do that, how to take up my cross and follow Him, or give up the whole business of Christianity. That's really what it came down to. I was finished with mega-churches; I was finished with the prosperity gospel; I was finished with some of the manifestations of the Charismatic renewal that didn't seem to change me on the inside.
I had a little book on the shelf about the Eastern Orthodox Church. What fascinated me about the Eastern Orthodox way was its two-fold promise that
(1) we can experience God in a direct, profound, unmediated way and,
(2) its pledge that the way to this (theosis) is the "narrow" way of self-emptying and repentance.
The Eastern Orthodox Church did not offer an "easy" Christianity. As Fr. Sophrony wrote:
"There is no more ascetic feat more difficult, more painful, than the effort to draw close to God Who is love".
I found myself ready to embark on this path at nearly 45 years of age.
I read the book on Orthodoxy with great interest and shortly after happened upon an Orthodox Church – while on a business trip – in Anchorage, Alaska. I went with the idea of looking for books in their bookstore. The Orthodox parish I visited near Anchorage had been part of a group that came into the Antiochian Orthodox Church in 1987 with two thousand others in what was known as the "Evangelical Orthodox Church". I asked if there were other churches like theirs' in southern California. The priest gave me the name of Saint Barnabas Orthodox Church, at the time a small parish of perhaps 20 or so families. Shortly afterwards I visited the small, single room church building for services. It was in a rundown, dilapidated warehouse building, and people stood somewhat awkwardly as services began.
I recall my first Vespers and Divine Liturgy well. When the services began the humble surroundings were instantly transformed! I felt as if heaven had been opened and angels were singing praise to God. The worship and the beauty and reverence were staggering. Worship involved the whole person – mind and body. People sang, genuflected, kissed icons and were reverent, as if God were truly present. I had never experienced such depth and beauty in worship even though the building the church met in was quite unremarkable. I knew this was where I belonged from the start.
It took a bit longer for Colleen and my children to come around to my newfound zeal! We had developed long-standing relationships at the Vineyard. Colleen and my daughters were reluctant to change churches and follow me. I agreed to alternate between Saint Barnabas and the Vineyard. Colleen agreed to attend the "inquirer's classes" that our Father Michael used to give in his home. Colleen's biggest fear was that I was dragging her back to some dead "ritualistic" faith and church.
She says her "epiphany" came when she realized that the Eastern Orthodox Church was nothing less than the church established by Christ and His Apostles and handed down to us through time, space and history in unbroken succession through its faith, practices and bishops. This was the "catholic" church she longed to find.
We were received into the Orthodox Church in 1995 and words cannot possibly describe the joy and gratitude we feel for being Orthodox Christians and the community which received us with open arms. We have been taught how to pray, how to worship, how to live this Christian life out and are part of a loving community, which truly cares for one another.
If you are reading these words and what I have said resonates, then I invite you to
"Come and see".
You will be most welcome.