by Fr. Leo Arrowsmith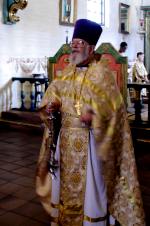 The Society of Jesus was my spiritual home for 24 years. 13 of those years were as a Jesuit missionary in Japan. Only after returning to the US and leaving the Jesuits to marry Denise Mason did I finally come into contact with Orthodoxy.
It all started in my prayer closet in 1983 where it seemed the Holy Spirit put the word "Orthodoxy" into my consciousness. So, I started looking around for Orthodoxy, knowing very little about it at the time.
Very soon I discovered the Evangelical Orthodox Church in Ben Lomond, California Ss. Peter & Paul. I pulled up stakes in Berkeley and in 1984 became part of an extraordinary movement – the EOC. Along with Fr. Peter Gilquist and many others. I was received into the Antiochian Archdiocese by Metropolitan PHILIP and ordained priest on the Feast of St. Leo the Great (February 18, 1987). I took Pope St. Leo's name at Ordination hoping to be some sort of bridge between East and West.
A few years ago I was pleasantly surprised to read in Again Magazine of the journey of Fr. Michael Harper into Orthodoxy. I had attended Fr. Michael's lectures on the Holy Spirit in the life of the Church back in 1969 in Los Angeles, California, the city of my birth (Feast of St. Nicholas, 1925).
Without any intervening contact, we had both traveled the grace-filled road to Orthodoxy. On Father's Day (June 16th, 1996) I was appointed Acting Rector of the St. Innocent of Alaska Orthodox Church in in the city of Fremont, California.
St. Innocent is a mission parish of the Orthodox Church in America, whose Mother Church is Moscow. The OCA has been autocephalous in the US for several decades now. Our parish of about 35 families is composed of almost every major ethnic group in Orthodoxy. Our Parish Council is only six people but includes two Greeks, two Russians, one Lebanese and one Ethiopian. We are multi-cultured, indeed. The only common language is English so all our services are in English only.
Since we are in "Silicon Valley" one hour from San Francisco, new inquirers find us on the internet. More than half of our membership is involved with the world of the computer.
My own forbears are from Wales.  A Blessed Edmund Arrowsmith was hanged, drawned and quartered in 1628 for the crime of being a "Massing Priest". Hopefully, I will be treated better when I visit England as a "Liturgizing Priest".