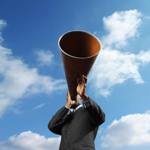 On the evening of April 10, 2009, the Eve of Lazarus Saturday and the Feast of St. Leo of Rome, twenty-six catechumens from the newly formed St. John the Baptist Orthodox Church in Lewistown, Maryland were chrismated and received into the Antiochian Orthodox Christian Archdiocese of North America at Ss. Peter and Paul Antiochian Orthodox Church in Potomac, Maryland. The chrismations were conducted by the group's catechists, including Fathers Nicholas Alford, Patrick Cardine, and Alban Waggener, as well as by the new mission's interim priest, Father Peter Jacobsen.
The chrismations were the culmination of nearly a year of inquiry by the former Charismatic Episcopal Church congregation and subsequent months of intensive preparation by the catechumens. The congregation, formerly known as Lamb of God Church, had previously adopted St. John the Baptist as their patron, and had therefore requested to bear the saint's name.
In response, on March 20, 2009, Metropolitan PHILIP officially named and established the new Western Rite mission as Saint John the Baptist Orthodox Church. Since the congregation officially decided to become Orthodox, the new catechumens have been joined by other local Orthodox Christians searching for a local Orthodox church, including families from the Greek, Romanian, and Orthodox Church in America (OCA) jurisdictions, many of whom were present for the chrismation of the new faithful.
James K. Hamrick, the former priest and pastor of the parish was among the 26 received into the Church. He said,
"This is what we have longed for and hungered for—to finally be joined to the ancient Church established by Christ and the Apostles. We give thanks to the Lord for leading us home, and for the sacrifices and faithfulness of those who helped us along the way."
Until he is approved for ordination to the priesthood in the Orthodox Church, Hamrick and his flock will be served and mentored by Father Peter Jacobsen, a retired Orthodox priest from New York.
Saint John the Baptist Church, located in the Diocese of Charleston, Oakland, and the Mid-Atlantic under the episcopal oversight of Bishop THOMAS, celebrated their first Western Rite Divine Liturgy (Mass) on Palm Sunday, April 12, 2009 with Father Peter Jacobsen as the celebrant. Bishop THOMAS will make his first visitation to the new mission two weeks later, on Sunday, April 26th.
Saint John the Baptist Orthodox Church is located just north of Frederick, Maryland, an hour west of Baltimore and an hour Northwest of Washington, DC. The new mission is the first Western Rite Orthodox mission in Maryland, and only the second Orthodox Church of any jurisdiction in Frederick County, Maryland (Ss. Peter & Paul Greek Orthodox Church in Frederick being the only other).
The people meet in a historic chapel located on Angleberger Road in Lewistown, Maryland, and have worked hard to transform the space into a beautiful place appropriate for worship in a Western Rite Orthodox Church.