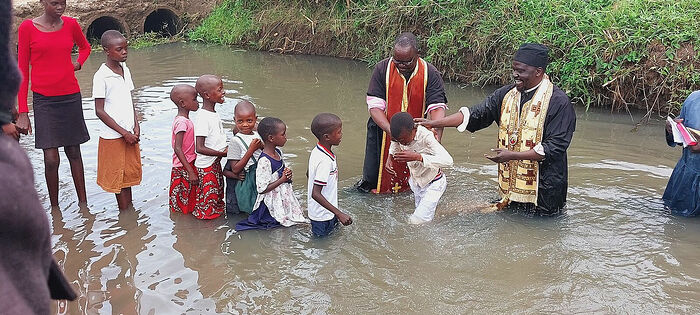 Another mass Baptism was celebrated in Africa over the weekend, this time in the Nile River near the town of Chemelil, Kenya.
78 people were baptized altogether on Thomas Sunday.
Photo: Facebook    
Bishop Neofitos of Eldoret and Northern Kenya of the Patriarchate of Alexandria writes:
CHRIST IS RISEN! KRISTO AMEFUFUKA!
There is no Messenger Without a Message!
Today the saints of St. Zosimas Church marched into the Jordan River of Chemelil where they were baptized in the name of the Father, the Son and the Holy Spirit.
We Baptized 78 young and old new members into our Church.
The Great Commission continues without any omissions spreading the Gospel and teaching the Word of Truth. It is only the Truth, the ONLY TRUTH that our people shall receive the message of love, hope and peace in their lives.
There is no messenger without a message! From what happened today, you can tell the message is at home, it was delivered.
CHRIST IS RISEN!
?
On Monday, OrthoChristian reported on 15 Baptisms in Nigeria and 10 in Tanzania.