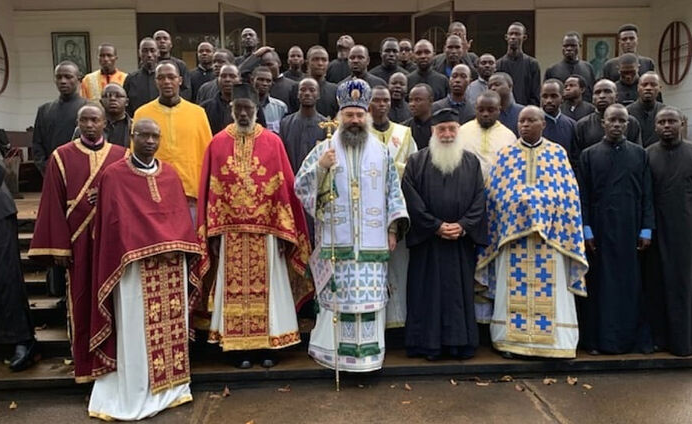 According to the Russian Patriarchal Exarch in Africa, Metropolitan Leonid of Klin, the number of African priests who joined the Exarchate had already grown to 150 from the initial 102 as of early last week. And that number continues to steadily grow, the Metropolitan has said.
According to sources in Africa, a large number of those priests come from the Kisumu Diocese (Kenya) of the Patriarchate of Alexandria.
OrthoChristian was initially informed that 53 of the diocese's 71 priests have joined the Moscow Patriarchate. While that exact number is unconfirmed, several other sources on the ground have confirmed that an overwhelming majority of Kisumu priests have switched.
"Almost all the priests will switch to Moscow. Very many priests are asking for the oath to sign," writes one priest.
Another source reports: "I don't know how many, but yes, almost the entire diocese of Kisumu."
During the writing of this article, another Kenyan priest told OrthoChristian that more than 60 Kisumu priests have joined the Russian Church.
OrthoChristian reported last month that in order to join the Russian Exarchate, Russian priests sign an oath testifying that they are switching jurisdictions voluntarily, because Patriarch Theodoros of Alexandria has entered into communion with the Ukrainian schismatics, and that they will remain loyal to the Russian Church for life.
At the same time, it was reported that certain Alexandrian hierarchs, including Bishop Marcos of Kisumu, were sending letters to their clergy, calling on them to remain loyal to the Alexandrian Patriarchate.
Bishop Marcos is the successor to the Bishop Athanasius, who reposed in the Lord on January 4, 2019. He was elected nine months later, on September 9, 2019. The local clergy were frustrated that a greatly beloved African hierarch was replaced by a Greek bishop who took four months to visit the diocese.
During this period, Pat. Theodoros entered into communion with the graceless schismatics of the "Orthodox Church of Ukraine," and having been practically without a bishop for a year, the Kisumu priests began to look elsewhere and make contacts in the Russian Church.