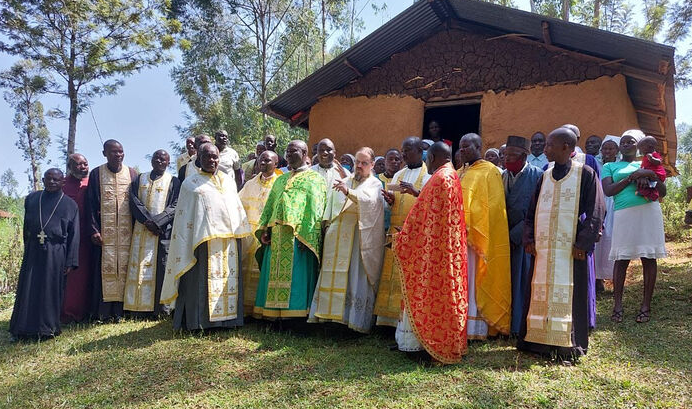 Dozens of African priests gathered in western Kenya to celebrate the first official Divine Liturgy of the newly-created Russian Exarchate in Africa.
The 24 priests were joined by Fr. George Maximov of Moscow, who has been instrumental in developing the Exarchate.
The Liturgy was celebrated at the Church of the Great Martyr Panteleimon in the village of Ebuyangu, with priests from the surrounding districts, reports Metropolitan Leonid of Klin, the Patriarchal Exarch of Africa.
Both Patriarch Kirill and Met. Leonid were commemorated during the service, which was celebrated over the new antimens recently signed and consecrated by the Metropolitan.
"A new Swahili translation of the Liturgy of St. John Chrysostom was used, made in compliance with the Russian liturgical tradition, and correcting many imperfections in the previous translation," the Patriarchal Exarch reports.
After the service, Fr. George presented icons to the church, and home icons, crosses, and Swahili prayer books to the priests and faithful. The priests also received their antimens from Met. Leonid.
Then a general clergy meeting was held, where numerous issues related to the organization of Church life were discussed.
The Holy Synod of the Russian Orthodox Church created its African Exarchate on December 29, including two dioceses covering the entirety of the African content. The Exarchate began with 102 African priests, and last week, Met. Leonid said the number had grown to 150.