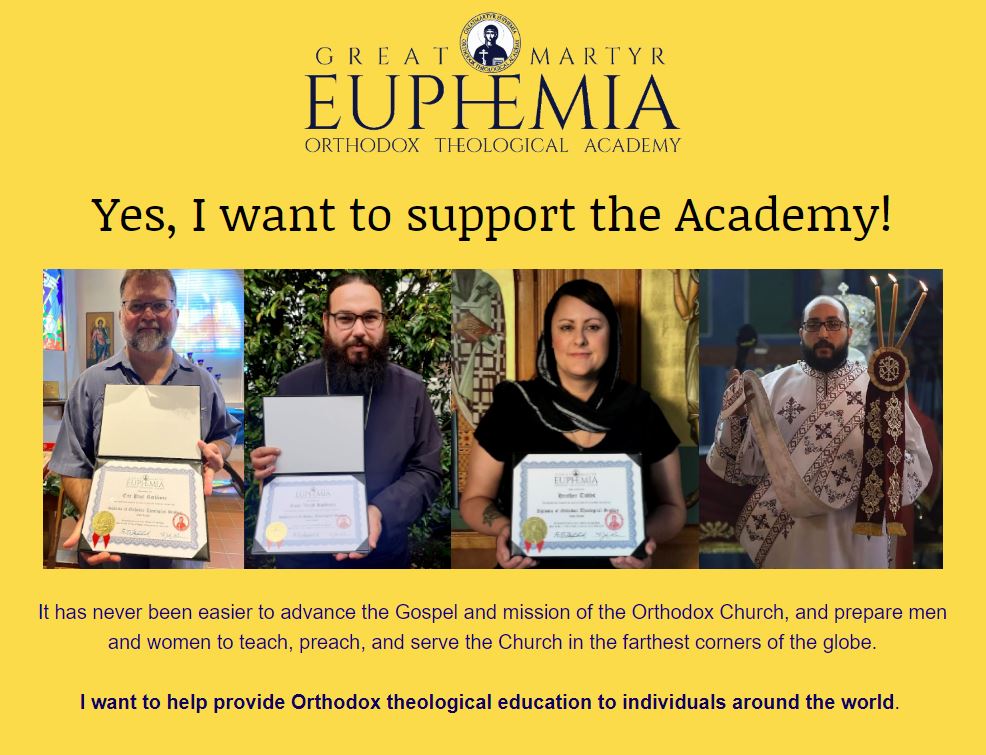 I want you to join our team. What will it cost you? As little as nothing.
When is the last time you heard that? This isn't a gimmick. Let me explain.
This is Fr. John A. Peck. Many of you know that, apart from running Journey to Orthodoxy, I am the Dean of the Greatmartyr Euphemia Orthodox Theological Academy. We have students in 24 countries. Many are very remote, but our program is entirely online – even the books and reading materials are delivered electronically. 
Did you know that half of the first class of graduates of the Greatmartyr Euphemia Orthodox Theological Academy have already been ordained? By four different national churches/jurisdictions?
We need your help. If you want to help get good theological education to impoverished students around the globe, sign up today. You'll be making a difference in villages and towns you'll never see, but our graduates will be there teaching, preaching, and serving the liturgy. We have too many impoverished students who want to study. Their bishops have blessed them, but our scholarships are already spoken for this year.
The Greatmartyr Euphemia Academy needs you, and it's easier than you think. What can YOU do, to make a difference?
Sign up, using the link below. You'll get updates about how you can help us reach more students and enable them to enroll.
Take a class yourself. Enrollment is open now, and classes start Sept. 2nd. Not sure? Audit a class!
Sponsor a student. You can make a donation that will help an impoverished student, usually Middle Eastern or African students, some refugees (!), take courses, and receive their diploma in just two years. Total cost including tuition, fees, books, etc? $5,000. We did not leave out any zeroes. It's the best deal in online Orthodox theological education.
Help us get the word out. Be one of our town criers. Sign up below. You'll get emails with statistics, talking points, and events that will offer others the chance to change a life, and in doing so, change the world.
We need more scholarships for impoverished Middle Eastern and African students who cannot afford to leave home, and cannot even afford a laptop. Can you sponsor one? Can you spread the word? Do you want more information so you can share with your own family and friends the great work these grads and students are already doing, right where they are.
We need you on our team.  
Sign up today, and you'll start getting the inside information on the mission of the Academy, and how we can get quality Orthodox theological education to students almost ANYWHERE in the world. But we can't do it without you. Sign up now.
The world is going crazy, and seems to get crazier by the minute, but WE are not going crazy. We just need to know who is on our team.
In Christ our Savior,
Fr. John A. Peck