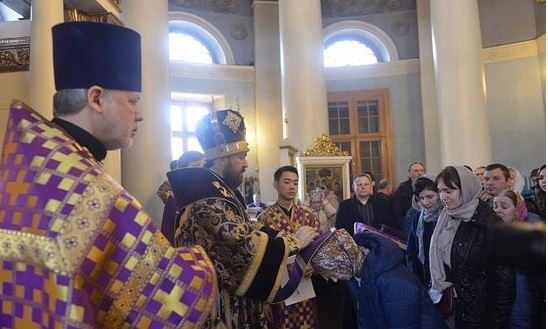 His Eminence Metropolitan Hilarion of Volokolamsk celebrated the rite for reuniting apostates to the Church on Sunday, bringing a number of people back into the saving enclosure of the holy Orthodox Church.
The service was celebrated for 78 people who had apostatized to paganism, sects, or schisms in the Church of the Mother of God "Joy of All Who Sorrow" in Moscow, reports the Department for External Church Relations.
Work with the former apostates was carried out by the A. S. Khomiakov Center for the riverside rehab of the Victims of Non-Traditional Religions that operates at the Joy of All Who Sorrow Church. Before being reunited to the Church, preparatory talks are held for several months with those who wish to reject their errors and return to the true faith.
Following the service, Met. Hilarion addressed those who had returned to Christ with words of exhortation:
"Your reunification with the One, Holy, Catholic, and Apostolic Church, from which you have fallen away, each for your own reasons, has been accomplished. Now you have returned to its saving womb. I would like to wish you all to preserve this Orthodox faith from now on as a precious treasure and to never again lose this treasure."
He also called on the reunited to read the Gospel every day and to reflect upon what they read and to study the interpretations of the Holy Fathers, and to attend church regularly, absorbing the theology and spirituality in the Church's hymns and prayers.
"Try to regularly participate in the Church Sacraments, to confess and commune of the Holy Mysteries of Christ to be purified from sins, to be united with the Lord, Who dwells in us and lives in us in His Most-Pure Gifts through the Sacrament of Holy Communion," Met. Hilarion preached, also calling on those present to make a concerted effort to keep the commandments of Christ.
The rite of union is celebrated in the Joy of All Who Sorrow Church twice a year. 61 people returned to the Church in November 2017, and 63 before that in April.