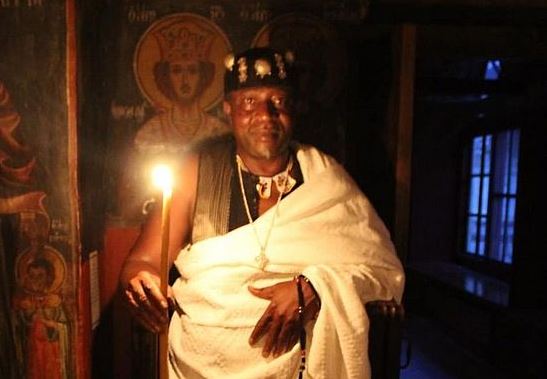 The newly-baptized Orthodox King David, His Majesty King Tchiffi Zae Jean-Gervais of the Krou chieftains in Côte d'Ivoire, the founder of the United Kingdoms of Africa, has long been a servant to his and all African people, dedicating his life toward serving the common interest of the people of Africa.
King Tchiffi Zae Jean Gervais recently traveled to holy Mount Athos to join the holy Orthodox Church, taking the name David in holy Baptism, as previously reported.
According to information from the Metochion of St. Tryphon, a dependency of the Athonite Monastery of Koutloumousiou, where the king was baptized, the Baptism was celebrated with the blessing of the abbot of the monastery by Fr. Chrysostom (not Hieromonk Dionysius, as previously reported) with Archimandrite Daniel becoming his Godfather and spiritual father.
In 2008, The Forum of Kings, Sultans, Sheiks and Traditional Leaders of Africa was formed, during which His Majesty was democratically elected by 535 Kings, Sultans, Sheiks and Traditional Leaders as the Secretary Permanent of the Forum. The Forum was formed to establish a body through which the Royalties in Africa can have one voice that will be respected by the African Union, individual Presidential Offices in Africa, and also the United Nations.
In 2015, His Majesty responded to a call from God and founded the United Kingdoms of Africa to function as a non-political, social development advocacy platform which acts as a unified voice for civil society and functions in support of presidency and national government, institutions, and peoples to support the national development plans of African countries.
Under his guidance, The United Kingdoms of Africa works tirelessly towards the implementation of their ten founding pledges, which are the following:
1. Promote traditional leadership development,
2. Promote peace and stability,
3. Promote access to basic healthcare,
4. Promote food and water security,
5. Promote investment climate support,
6. Promote basic education, youth development and skills transfer via technology,
7. Promote gender equality,
8. Promote inclusive exploration of mineral and natural resources,
9. Promote the creation of a technology-based communication platform between stakeholders and the communities,
10. Promote the preservation of tradition, culture, and heritage.
May God grant His Majesty King Tchiffi Zae Jean-Gervais, David in Baptism, many years!