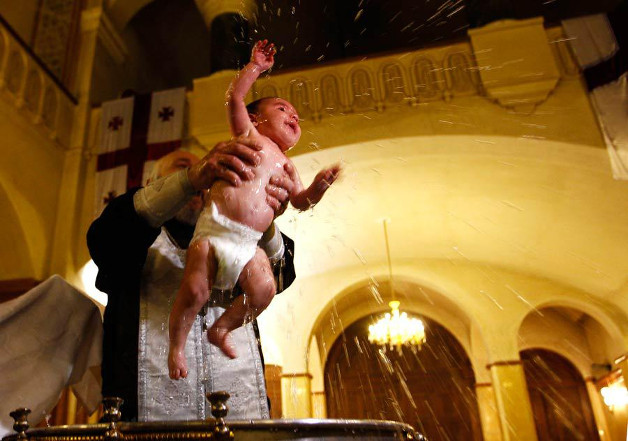 1,000 infants will be united to the Body of Christ through the Sacrament of holy Baptism tomorrow in cities throughout Bulgaria, reports the site of the Bulgarian Patriarchate.
The mass Baptism is part of the national campaign "Do It For Bulgaria," in support of birthgiving, to help shift the tide of the nation's rapidly declining birth rate. Bulgaria is currently experiencing the most extreme population decline in the world, due to a combination of post-communist emigration, high death rates, and low birth rates. Population statistics project a 30% decrease, from 7.2 million to just over 5 million, by 2060, reports The Washington Post.
The "Do It For Bulgaria" campaign is under the patronage of His Holiness Patriarch Neofit of Bulgaria. The participants in the Baptism will be exempt from paying the usual costs and will receive a special birth certificate. His Holiness will be present to give His patriarchal blessing to the newly baptized and their Godparents and relatives on Sunday in the capital's St. Sophia Church.
Besides Sofia, the Baptisms will take place in Plovdiv, Varna, Burgas, Stara Zagora, Veliko Tarnovo, Ruse, Vratsa, and Pleven. According to the organizers of the initiative, tomorrow's will not be an isolated event but will be continued in the future to help stimulate Bulgaria's birth rate. "Do It For Bulgaria" is less than 9 months old, but has already involved more than 1,200 families.
The campaign is perhaps inspired by the regular mass Baptisms in Georgia. The 50th such mass Baptism, in which His Holiness Patriarch-Catholicos Ilia II personally becomes the Godfather to all the newly-baptized children, was celebrated in Georgia on September 21. The patriarch now has 33,000 Godchildren, and the initiative is often credited with helping to raise the nation's birthrate.