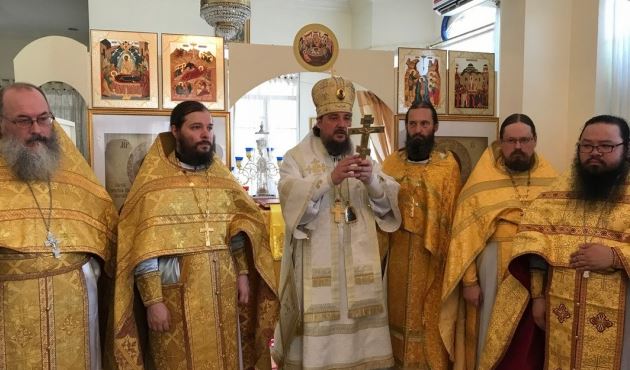 On, June 17-19, 2017, with the blessing of his Holiness Patriarch of Moscow and all Russia Kirill, manager of the Moscow Patriarchate's parishes in Eastern and South-Eastern Asia and head of the Administrative Secretariat of the Moscow Patriarchate Archbishop Sergius of Solnechnogorsk visited the Philippines. On June 19, the prelate met with the Minister of Foreign Affairs of the Republic of the Philippines Alan Caetano, who promised to offer assistance to several Russian Orthodox communities throughout the country, reports the press service of the Moscow Patriarchate.
In particular, during the meeting in which they discussed the humanitarian aspects of the deepening of Russian-Filipino relations, the minister supported the intention to revive the Russian Orthodox presence in the country, promising to assist in the restoration of the Iveron Mother of God Church in Manila, which operated from 1934 to 1946.
Abp. Sergius celebrated Vigil and the Divine Liturgy for the feast of All Russian Saints in the Manila Iveron Mother of God parish on the first two days of his visit, with several local clergy concelebrating. Russian Ambassador in Manila I. A. Khovaev, compatriots, employees of the Russian diplomatic mission in the Philippines, Orthodox Filipinos, including representatives of the Orthodox communities on the island of Mindanao, and citizens of other countries were all present at the service.
In addition to reviving the Manila parish, the minister also pledged to support the Russian Orthodox communities in Cebu, Baracoa, and other cities that are home to Russians, as well as on the island of Mindanao. It was noted that in connection with developing cooperation between Russia and the Philippines, the spiritual presence of Russian Orthodoxy will facilitate the expansion of humanitarian ties between the two countries and the deepening of mutual understanding between the Russian and Philippine peoples.
Missionaries have celebrated several mass Baptisms in the Philippines in the last few years, bringing many former Catholics into the holy Orthodox Church.