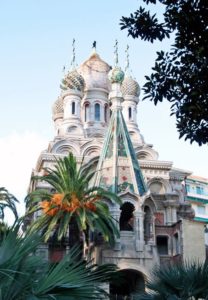 The head of the administration for Moscow Patriarchate churches abroad Bishop Anthony of Bogorodsk stated in a recent interview with TASS that the Russian Orthodox Church has nearly 900 parishes in foreign countries, the greatest number of which are in Germany and Italy. While the number of parishes in Germany outnumbers those in Italy,
"[t]he second largest eparchy abroad of the Russian Orthodox Church is located in Italy. There are nearly seventy parishes and their number is steadily growing,"
according to Bp. Anthony, who formally served five years as a parish rector in Italy.
"It is one of the most dynamically developing regions from the point of view of our presence in Western Europe… I am continuing to work with our Church affairs in the Apennine Mountains," which run 750 miles along the length of Italy, the hierarch said.
Meanwhile, His Grace noted that the Sts. Peter and Paul Russian podvoriye parish in Karlovy Vary, Czech Republic "is one of the most remarkable Russian churches abroad."
Bishop Anthony spoke with TASS upon arriving in the Czech Republic to celebrate the tenth anniversary of the registration of the Russian parish, emphasizing the integral role of Russian priests serving in the Czech Republic in the nation's Orthodox spirituality.
"Our community here is constantly growing. There have been some momentous events, such as the building of the large, spacious, beautiful Russian Orthodox Church of St. Lyudmila at the Russian embassy in Prague. We also purchased a building for the needs of the Sts. Peter and Paul church and the needs of our spiritual-cultural center in Karlovy Vary," Vladyka said.
Bishop Anthony was recently appointed to his position as head of foreign parishes. Having noted the special importance of Russian churches in the Czech Republic,
"one of my first visits in my new capacity was precisely to here,"
he said.