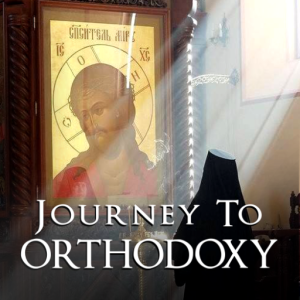 Dear friends of Journey To Orthodoxy,
As you know, we receive calls and emails from individuals, pastors and parishes all over the world, reaching out and wanting to join the Orthodox Church. Some are even young men with the desire to serve Christ as a priest in time. We do everything we can to get them what they need to make the connection with local Orthodox Christians.
Sometimes it is harder than others.
We just received this letter from a young man in Nigeria (not a lottery or inheritance scam) who we have been talking to for some time now. Neither he nor we have received responses from the Orthodox mission in Nigeria, and they are not responding to calls or emails.  Be that as it may, we won't drop the ball. Chris, the young man in question, just sent us a letter, in which he states;
Beloved Fr. John

…I have been searching at the different local christian bookstores and online Christian bookstores in Nigeria for Orthodox theological books and literature but i have been unsuccessful in my attempts only Amazon and foreign bookstores have the books I wish to buy and to read. the only problem is that they foreign bookstores do not list Nigeria as one of their business networks. Books by St. Theophan the Recluse, Path to Salvation, Patristic Theology and Ancestral Sin by Fr. John Romanides ,the Triads, the Homilies and Parables of Jesus by St. Gregory Palamas and Orthodox Psychotherapy. if there is a way i can get these books and an Orthodox Bible… my joy will be boundless.

My joy is that I have found the truth. I am willing to go through any difficulty as long as I know it is the place where I have assurance of salvation.
Chris needs materials, and he has reached out to us. 
And I am reaching out to you. Help us send this young man the books and materials he needs. We need your help NOW. He is but one of many such requests we receive throughout the year, and this year has been a banner year for us in terms of outreach, but we CANNOT DO IT WITHOUT YOUR HELP. We want to put together a box of materials for him and get them off to him before Nativity. Help us out. Every dollar helps.
Click here to help us help guys like Chris get what they need on their spiritual journey, to join the Orthodox Church.
May God richly bless you.
in Christ our Savior,
Fr. John