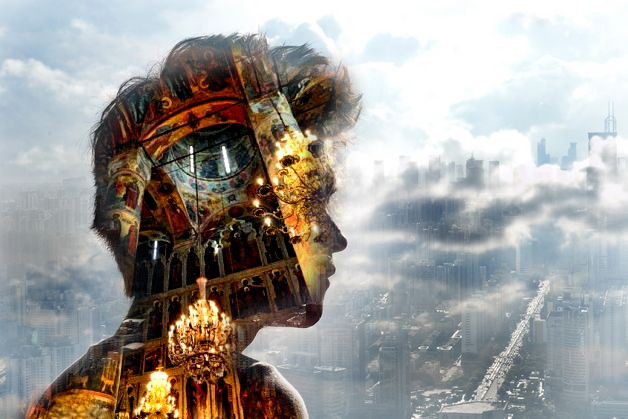 by C. J. S. Hayward
A departure from our recent series on women and men who come to Orthodoxy without their spouses, this article is a deeper introspection of a student struggling 
Introduction: A bit of background
I know one Orthodox priest of venerable age; the last time I saw him he was using a walker, and radiating a serene peacefulness as always. I lowered myself in asking a blessing, kissed his hand, and he placed a gentle kiss on my forehead. I remember that with gratitude. I remember thinking much earlier that he must have not suffered, but that is not true. His serene peacefulness is somewhere on the other side of sorrow.
I was thinking and praying over how to write something that would radiate that peace, but there was something false about that desire. Not that the heavenly peace is false or does not exist on earth. It does and it is real in him. But I am not there yet, or at least have room to grow. For most of us, conversion is a slow process. At least for me, I started to become Orthodox well before I sought to be received into confession, and now, eleven years later, I am still learning basics.
Some have said that it takes seven to ten years to become Orthodox, but that's a rough draft rather than a final verdict. It's not absolute either way: a great many canonized saints were "baptized in their own blood," former pagans martyred after they had professed Christ but too quickly for them to even seek out baptism. Meanwhile, some of us who have been in canonical communion for over the requisite decade still have somewhat further to go, probably by a lot. So I will try to answer Fr. John Peck's generous invitation out of what I have, not out of what I don't have yet. Even if I believe the venerable priest's serene, Heavenly gentleness represents something more real.
This introduction on a site about people's journeys to Orthodoxy may be sui generis among what people publish in their journey stories: most people want to tell of the goodness in joining Orthodoxy, and I do too. But we are summoned in the Gospel to count the cost before embarking on the journey. And, while I may face distinctive challenges personally, none of them are something simply unrelated to normal life in the Orthodox Church. The Magi gave Christ gold, frankincense, and myrrh: gold in recognition of kingship, frankincense in recognition of divinity, and myrrh in recognition of the suffering of a sacrifice. All three of these belong to Orthodox Christians: the service of general unction connects the anointing given the faithful with the anointing of kings and bishops. All of the faithful are royal. Deification is a leitmotif in Orthodoxy: as (for one of many examples) St. Maximus the Confessor said,
God and the Son of God became Man and the Son of Man that men and the sons of men might become gods and the sons of God.
Lastly, every Christian must bear his cross. Myrrh belongs to all Christians. But Evangelicals considering entering Holy Orthodoxy should count the cost, and beware that certain things that you don't really run into among other devout Evangelicals will happen, possibly more than once, should you enter into Holy Orthodoxy. God by his love has saved me in situations where I should have been lost, perhaps dead, more than once, and perhaps he will do the same for you.
But enter forewarned.
Which story?
If I were to pick one story from the Gospels to illuminate my experience, I would, like a former Protestant, look at a particular story in historical and cultural context. It is my usual experience that study of the cultural contexts of the Bible are less valuable than you might think; cultural context as I have heard it quoted in Protestant sermons is a source of pearls, but if you look at commentaries trading in cultural context without the good parts cherry-picked by someone else, you will at best find pearls amidst sand. The Pillar New Testament Commentary on Ephesians is a good example, and it might be worth reading through it and keeping tabs on first, how many of the details actually illuminate your prayer in any way, and second, how much of your time is spent simply bored by what you are reading. I found it really dull. That is a conservative Protestant commentary; I have found liberal studies even less worthwhile.
But back to which story I would choose: I would choose a story of a storm and its calming to represent the extremes in my story. Where I live, in Illinois, people who are at all sensitive to weather can tell when a storm is brewing: it will feel like a storm is brewing an hour or more before the storm actually breaks loose. Christ and his disciples were out in a different part of the world, at sea when the sky can be calm enough and then an intense storm breaks forth in perhaps five minutes. This happened when Christ and the disciples were out at sea, Christ was asleep, and waves were breaking over the side of the boat, which was quite simply in the process of sinking. And they awoke him, asking,
"Master, don't you care if we perish?"
And Christ rebuked the waves, saying,
"Peace! Be still!",
and there was a great calm. The disciples were terrified, and asked,
"Who is this, that even the wind and the waves obey him?"
The Greek text was a little different from the "koine" Greek of the New Testament's context; it was the literal, classical, translation Greek of the Septuagint or Greek Old Testament, which was kind of what the King James Version is today. This is translated out in most Bibles, but the Greek follows the Semitic Septuagint's language in saying that the disciples
"feared a great fear."
And what is most to the point is that they were not most afraid before Christ calmed the sea. They were most afraid after the deadly storm had passed. Beforehand, they had the natural fear of a storm that before too long would leave them all dead. Afterwards, they had seen that this Teacher they were with had such authority that even the wind and the waves obeyed him. They were more afraid after the storm stopped than before.
I remember being drawn to Orthodoxy in my undergraduate work and first master's. During my first master's, in math, I heard the worst sermon I heard of my life, and realized something. Every previous sermon that I heard worked out of at least three basic assumptions:
There is a Truth.

I am privileged to know some of that Truth.

It is my position to share with you some of that Truth.
Now I'd heard sermons that made some pretty impressive errors after reaching those three assumptions, but not this: it was, like non-directive counseling, stating that there is no truth and the preacher could not offer input to what arbitrary position you must come to yourself. It's the one sermon I'd heard that left me in nausea because it was so far from Truth.
The University of Illinois at Urbana-Champaign, where I did my first master's in math, had somewhere above a dozen student groups that identified themselves as Christian. The only one I encountered that had a pulse, spiritually speaking, was the vibrantly alive and Catholic Newman Foundation Koinonia, filled with people who loved God and each other. And I remember even then being drawn to Orthodoxy, if by motives that would mostly need to be rejected upon entering Holy Orthodoxy: ecumenism that let me look outside Protestant quarters, a desire to reconnect with (and re-create) the ancient Church, pride, and a desire for the exotic. It would chafe me years later that (now) His Eminence +KALLISTOS would write in The Orthodox Church that Orthodoxy
"is not something Oriental or exotic,"
but all of these motives, even if I have much room to grow in humility, needed to be let go of when I was received into Holy Orthodoxy. (Perhaps anything truly great is something where you need ultimately to become free of even the motivations that lead you towards it in the first place; I imagine such may also be true of marriage and also monasticism.)
After completing my first master's, I was on debilitating medicine for a year and spent that year mostly lying on my bed and staring at a lightbulb. There was nothing else I really could do, even though I yearned for energetic activity such as I knew beforehand. When I was put on a less debilitating combination of medications, I took stock as my mathematical abilities outside of computers had simply not survived a year of enforced mental idleness. I sought first an interdisciplinary program and there received a (secular) warning from my pastor: he had taught in an interdisciplinary "American Studies" program drawn from history and literature, and it was difficult to place graduates because history departments wanted a pure history Ph.D., literature departments wanted a pure literature Ph.D., and while some Ph.D. programs are interdisciplinary and place graduates well, "American Studies" graduates were neither fish nor fowl and had a bear of a time finding placement. I was advised to focus on a single discipline.
During that time I began to miss midweek worship services. Such services had been golden for me when I was in high school, and the one church I knew of was an Antiochian Orthodox parish with a heavy former Protestant constituent, and I began attending services there. I had at the beginning no intent of becoming Orthodox even though the services have an effect; I tried to act like a good guest and was received as such, but I had simply looked for a Wednesday evening service. I found out later on that there was a midweek service at my suburb's United Methodist Church, but at that point there was no way I was going to drop Orthodox services to attend a slightly closer United Methodist service.
Returning to the topic of academic programs, after some time I settled on studying theology, and I applied to several schools. The one that accepted me was Cambridge University in England, and I entered a diplomate program, which was used when a student has some deficiencies switching programs: I spoke with one student who had a master's in math and was studying for a diploma in computer science before further work, and used with more leniency when I was entering the humanities from a sciences program. And there were several obstacles cleared by God's grace, though they included my concerted effort: after six months' struggle, student loans fell in place one day before I left, and other things happened with one day's notice. I left fighting another obstacle, cancer.
When that happened and I reapplied, Cambridge first claimed to have lost my application for an M.Phil. and then rejected it before an appeal was miraculously accepted. At the beginning of the year, I was told that I was required to be in the philosophy of religion seminar, and declared a thesis topic of the holy kiss. I decided on a strategy of aiming to be adequate in all my other responsibilities, and really wow the graduate school with my thesis, which I intended to be a doctrinal study that the University and my advisor kept redefining as an embarrassing form of cultural study with recommended texts including volumes of Foucault's The History of Sexuality.
Two thirds of the way through the year, my advisor gave me a handmade leather cross he had crafted, and told me that he was stepping down from his responsibilities because he had a form of cancer similar to what I was recovering from. The department, for their part, seized the opportunity to say that my thesis topic, declared at the start of the academic year, did not belong in a philosophy of religion seminar and I was to start over, meaning start over on something completely different where my earlier research would simply be irrelevant. For the British grades, which look different and much lower than inflated U.S. grades, and for which 70 is a remarkably high score, 60 is a passing overall grade, 63 is enough to continue from a master's, and again for half of the time I spent studying, I had a grade of 61. This time the department was not listening to an appeal. I was granted a second master's, but no Ph.D.
During this time, I was received into the Orthodox Church. As I approached my second year, moving from a diplomate to a master's program, I remember asking God for clarity about whether, in England, I should return to the Church of England, or move to the Orthodox Church. And I realized I was answered with clarity enough in recent news. The Anglican communion in America had appointed a first openly gay Archbishop. It was indeed more clarity than I wanted. I visited once to say goodbye, then began attending services only at a small Orthodox parish in Cambridge. I was received into confession on Nativity, and my godfather commented that there is a difference between people who are received into Orthodoxy at Pascha and at the Nativity of Christ. Pascha is open triumph: no holiday is its equal. But the Nativity is an invasion in winter with its deadness. And Christ is present in both, but those received at Nativity have something of the character of Nativity.
Since then I entered a Ph.D. program, and I will recall something from my first master's from an under-catechized friend. Visiting him one time after my studies, he played a clip from Monty Python and the Holy Grail, where God appears to King Arthur and with bitter hostility grouses that people pray "sorry this, and forgive me that," and responds in anger after King Arthur averts his gaze. I thought, sadly, that he found this blasphemous humor to be funny and expected me to like it. But the truth is worse: he thought that was true and expected God to receive his prayers with fundamental resentment. And that is much sadder than finding "nothing is sacred" humor (in both literal and figurative senses) funny. I tried to explain that God welcomed his prayer.
And that is what I met in a Ph.D. program. The classes as a whole were something like a mockery of Roman theology worthy of Monty Python at their best, but people were dead serious and meant nothing funny. Hence there was a Radical "Orthodoxy" paper advocating queer motifs and speaking of "the incestuous, homosexual union of the Father and the Son," or Mary Daly's leitmotif of calling for "castration" and effectively defining "rape" to mean, with full force, any real arrangement of society without a proper feminist seal of approval, meaning more or less every real society that has ever existed. I tried to befriend a prominent Orthodox theologian, and his responses and retaliations left me stumbling in my faith. I met profound spiritual harm in that program, and I am much better now, but it has been slow healing.
That program, since I washed out, may be the last such singular engagement I have to recount. In the time past, perhaps by God's good design, I have not been writing peer-reviewed articles, but instead articles with more of a pulse theologically. You can see them online at CJSHayward.com, or in books such as The Best of Jonathan's Corner. Of particular interest is the Kindle title A Pilgrimage from Narnia, which provides not exactly a narrative of things I've seen in coming to Orthodoxy, as an opportunity to look through my eyes to see what I have seen in discovering Holy Orthodoxy.
During this time, I have been flailing in the business world. I have been able to hit the ball out of the park as a programmer when engaged on solo or cross-functional projects, but the industry standard has increasingly become more focused on an Agile standard boasting that its team members work so well as interchangeable parts that you should be unable to tell who wrote any given line of code. I respect this as the right business decision for organizations to make under their constraints, but I am left out of it. I can't function that way. I think too differently to function as an interchangeable part, and I am trying to break into User Experience work that will place me on more of a cross-functional team.
And any next steps?
Yes, if God so wills. I do well with languages, and am working on learning Russian. I am halfway through my second pass through a modern Russian Bible (RUSV). I would really like to teach at a Russian seminary or University, although one ordinarily is not allowed to teach at a seminary without the formation of having attended a seminary, but who knows? Perhaps someone may read my struggles and find the kind of devoted ascetical struggle that makes absence of seminary attendance slightly less significant: qualified by my own struggles in a heresiologist's formation.
So here I am, with not everything set in place. I am working to be able to move to Russia; I am also seeking gainful employment. And I regard them as being like how God provided in the past. Someone said on a sign in my neighborhood,
"Money can't buy anything, but it sure keeps the kids in touch,"
and that is, really, what God takes for money too. That, after six months of efforts, my student loans fell in place one business day before I left to begin studying theology at Cambridge was not cruelty on God's part. It was rather to teach me about prayer, and my experience of a prayer being answered at the last minute is far from unique. God doesn't always answer at the last minute but his purpose, as we seek lesser blessings, is to also give us greater blessings. His ways may make sense rarely at the time, but he has a purpose in all of this, and I am trying to cooperate with his goodness when I don't have everything in order and I still need his help for some very basic things.
I pray that as you explore a journey to Orthodoxy, God will give you what you need, and will give greater blessings when you seek lesser blessings.
And in my own life,
I am unemployed, but that has lost its sting.
I have failed to earn the Ph.D. that functions so much as a union card to teach in higher education, but that has lost its sting.
I have so far failed to enter a profession where I can keep gainful employment, but that has lost its sting.
I am still living with my parents, but that has lost its sting.
In all of this I ask:
O Hell, where is thy victory? O Grave, where is thy sting?
For the Truth in all of this is:
Christ is risen!
Cordially,
C.J.S. Hayward
Something More Real on the Other Side of Sorrow