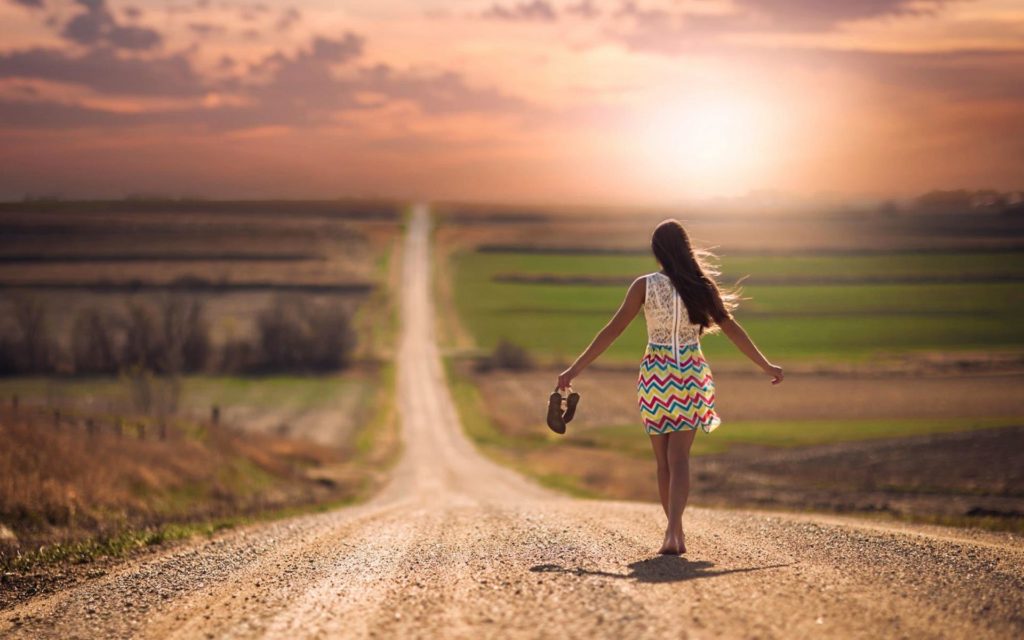 Part two of Julianna's Journey, and another addition to our series on women who convert to Orthodoxy without their husbands.
by Julianna
In the fall of 2010 I was hanging out with my sister-in-law and our girl friends at a Barnes & Noble. She randomly said to all of us,
"I've been thinking about and reading about the Orthodox Church. I came across it in history with my girls and there's this book I want to look at."
She went and found the book and brought it back. Her family had been trying to figure out church for themselves too. She was attracted to the beautiful pictures of Orthodox church which she showed us in this history of the church book she brought back to our café table. I was immediately intrigued.
Later that week I brought it up with my husband,
"Your sister has been looking into the Orthodox Church. Didn't those friends of your family convert or something? I remember some baptism pictures I saw once."
We had a 30min drive to make that night to a nearby military base to pick up my sister that was temporarily stationed there for training. So using my iPhone I started looking up the positions of the Orthodox church on all the controversial issues we had run into problems with researching the mainline Protestant churches. Not only did they have positions we agreed with, they had the most well thought out responses with evidence and quotes from the earliest writers of Christianity. I read and read and read to him until my voice was hoarse not only from reading, but exclaiming with glee over the thoughtful positions.
My sister-in-law had started reading Fr. Peter Gillquist's book about the mass conversion to Orthodoxy in the 80s. She quickly figured out that one of those churches was just an hour north of us and not only that, this was where Fr. Peter, though retired, was attached. We made plans for our two families to visit St. Athanasius Church that weekend. Our experience was so welcoming and warm from the parking lot and through the liturgy. The choir was amazingly beautiful. This lady we met in the parking lot actually came back to where we were sitting and to make sure we knew that "Let us complete our prayer…" does not actually mean we are at the end of the service, that it was similar to when a Protestant pastor says, "In conclusion…" but has several more points of summation.
We learned during coffee hour that this was the first weekend Fr. Peter would not be there, we had just missed him as he moved across the country. However, Fr. Nicholas spent the entire coffee hour with us answering questions and talking with us. He suggested that we try out an Orthodox church closer to us though instead of traveling an hour away.
My sister-in-law found that most of the Orthodox churches near us, however, were quite small and she did not want to go to a small church or one that was too ethnic. I don't think we talked much about Orthodoxy after that. My husband and I on the other hand decided to try out a small OCA parish fairly close to us.
The first Sunday we went was their church feast day. We walked into this tiny house filled with incense and so many clergy and nuns from a nearby monastery in addition to the small amount of regular parishioners (maybe 10). I had e-mailed the priest ahead of time to let him know we were coming so he kind of put us on the spot to introduce ourselves during "education hour" which their particular parish had after liturgy, but before coffee hour. It was kind of an overwhelming experience. We were undaunted, however, and came back again and again. We even brought a couple with us that were also trying to find a new church.
It turned out that couple knew another couple that had converted to Orthodoxy and were at seminary. While home on Christmas break we were introduced and quickly hit it off with them as well keeping in touch with them by phone and e-mail right after our first introduction which lasted into the wee hours of the morning talking about the church, our experiences and views of the Orthodox church. We ended the early morning with our seminarian friend pulling out a diptych and leading us in some Orthodox prayers. He left the diptych and prayer book with us. Our friends decided fairly quickly that Orthodoxy wasn't for them. The veneration of saints and the Theotokos along with iconography was just too weird for them.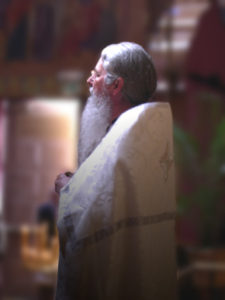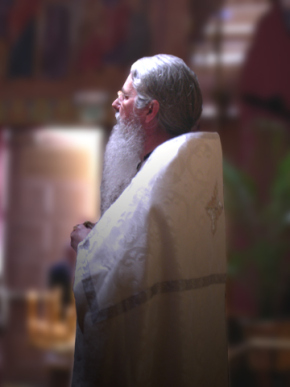 The priest from the small OCA parish also came to our house and stayed very late one night answering questions and helping us along. He thought from all of our conversations that we were ready to convert right away. He was very eager, but I think he thought we were very eager and ready too. We hadn't done the best job communicating our hesitations.
It was just before Lent in 2011 and the OCA priest wanted to bless our house. We decided that despite our misgivings, getting our house blessed would be harmless.Our now 2.5 year old daughter had been waking up regularly for months with horrible nightmares. She kept complaining about a cat and an eagle that were terrorizing her dreams. We tried to reason with her logically. Many people we knew had really nice cats. She liked cats. Eagles were rare and stayed away from people. The priest came over to do the blessing. It was a little weird for me. I was not feeling well and stayed on our couch while my husband and the priest walked around singing and sprinkling everything with water.
The next day at breakfast our daughter said,
"Mama, I have no more nightmares. The eagle and the cat went outside last night."
I was in awe. Throughout this little journey our daughter had really dove into Orthodoxy. Something that actually worried us since we were so hesitant and not sure if this is where we would end up. On Sundays she venerated the icons almost to a point of excessiveness, but the OCA priest who was a grandfather and loved kids would say to her during his homily,
"I saw you venerating those icons during Liturgy, you did a really great job of it."
When I communicated this story of the house blessing and our many stories like this on Sunday, our seminarian friend said,
"You know, your daughter reminds me of Photini. Do you know the story of Photini? She was the woman at the well. You should look her up. She converted her whole family."
The priest told us one Sunday that he wanted to baptize us, if we were up for it, on Lazarus Saturday. His Matushka was excited for another voice in the choir too and sent us home with a copy of the Lenten Triodion. We were overwhelmed. We had not even spoken to our families about this. We knew Orthodoxy looked enough like Roman Catholicism to make some waves in my husband's generations Protestant family. We just were not ready and got scared. That week my husband returned the Triodion and the following Sunday we went back to our mega-Church.
One of the things that had appealed to me about Orthodoxy were the pre-written and recited morning and evening prayers. I could read them over and over again and find something new that resonated with me. Despite being a journalist and writer, spoken words and prayer had never been something that came easily to me. I felt like I was often repeating myself and stumbling and never really saying what I actually wanted to say.
When we went back to the mega-Church we decided that if we were going to go back this time, we were going to do this with much more effort and intensity. We were going to really try and get involved and become known in this community. No more beach trips instead of church on Sundays if everything didn't go just right. The church was starting a new women's ministry mentoring situation with time together as our huge community with various speakers and then broken up into smaller groups. Our first night there I told my story about the last few months searching into Orthodoxy, but that I was glad to be back because I had some misgivings about their beliefs. We went around the circle and prayed for each other and I just wanted those written out prayers. I felt hot and nervous. I didn't know what to say.
At our next meeting, our speaker had done various short term missionary support work in Jerusalem. She shared pictures of her trip and their ecumenical humanitarian efforts there to help. In one of her slides there was a picture of her with two Orthodox priests or monks (she never said, and I couldn't tell, I remember they had cassocks on and pectoral crosses), she said,
"These guys are awesome. They are Orthodox. I can't even explain it and the picture does not do justice, but their faces literally glow, I mean they really, really glow with joy and love for God."
I was so excited when she wound up in my small group that night. I wanted to pin her down and get more of the story about the Orthodox guys, but the time didn't allow for it. I wanted to share my experience with her. I was feeling so out of place in this weird in-between of Orthodoxy and Protestant Evangelicalism. I admitted to my group leader when she called later that week that I struggled with praying aloud and I was excited from our speaker's presentation that they were so accepting of Orthodox Christians. I told her I loved the Orthodox written out prayers and that they helped me pray so much.
My leader became very quiet and uncomfortable. She said as my mentor she really felt I needed to wean myself off the prayers. She really wanted me to work on spontaneous prayers and feeling comfortable with that.
I mostly stopped going to the women's ministry after that. I started looking up books that compared Orthodoxy and Protestantism. I wanted to know what the differences were and why. I also just read things about Orthodoxy that seemed interesting to me or came up as recommended on my Amazon purchases. I consumed book after book. I stayed in touch with our seminarian friend asking questions, getting angry and working through it, trying to understand over the next year.
+++
Part Three can be read by clicking HERE
Julianna's Journey: Part Two