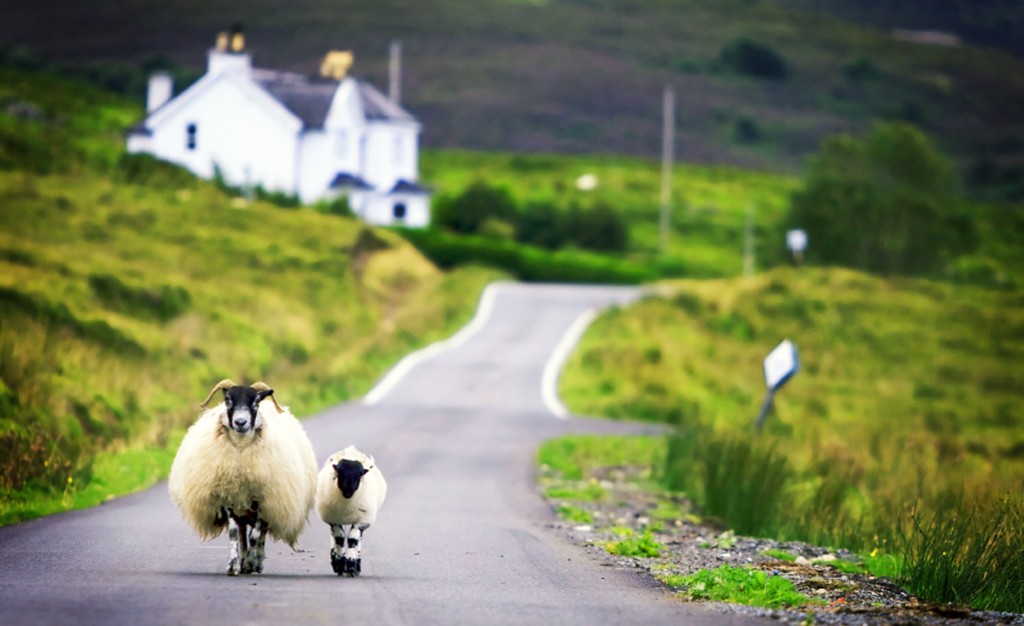 This is my journey home to the Orthodox Church
by Katherine Sanders
I was born in the early 1970s into an ethnically Scottish Presbyterian family – my parents had both been baptised and our culture was very sectarian – anything remotely Catholic was immediately suspect, even crosses. Only one of my grandparents was an overtly Christian believer, although I think in hindsight that they all had what I would call a 'quiet faith'. Scotland is not a demonstrative country and talking of Jesus and salvation immediately marked one out as 'different' and perhaps even (say it quietly) foreign.
I had not been baptised, as my family wanted me to decide when I was old enough to understand what I was believing in. In those days we had a regular school assembly led by a very nice Church of Scotland minister, Mr Brown, who spoke softly with a Highland accent of Jesus, the Bible, Creation, and our first school was clearly Christian – we had a hymns at every assembly and I was given a bible very early on – I remember there were pictures of clouds shot through with divine sunlight, which struck me very profoundly.
Even today, they have a special place in my heart. I think I must have been seven or maybe eight when I asked my parents to take me to Church on Sundays. I have no recollection of what prompted it – love for my grandmother, enjoyment of singing, wanting to be 'proper' and grown up but by then, I already believed in God… Anyway, they patiently drove me to our town church and let me go in myself. I was initially expected to leave during the service and join the Sunday School, but I loathed the noise, the colouring in, the other children (!) and so developed a good line in slinking down in the pews when other children left, so I could listen to the sermons and keep singing grown up hymns. I remember clearly being in the car with my grandfather one day and hoping to impress him having memorised all the names of the books of the Bible. He was pretty bemused.
I was glad to be in church but of course, with no real structure beyond one hour or so a week, it wasn't long until I drifted away and as a young teenager, I was far more interested in rock music and art than God. He never entirely let me go, and I did attend a few Scripture Union meetings, having been befriended by a lovely and devout teenage couple (they later married young, she trained as a doctor while he worked, then he trained as a minister, and when he had a parish they had their family. They are still together, still devout and it is lovely to think that I knew them thirty years ago). At that time, I 'fell in with a bad crowd'.
One of them was Roman Catholic and had an odd relationship with her church – in spite of our behaviour, which ran the gamut of teenage indiscretions, she regularly went to Mass and even taught me the Hail Mary (which I can still recite). Something in me was deeply attracted to the cool, quiet church with air scented with incense, the holy water in the stoup, the idea that there could be beauty and pictures (Pictures!) in a church without people spontaneously combusting. However, the din of heavy metal, rock, boys and motorcycles proved too loud for a good ten years at that point.
I confess that I wandered very far from my roots and life was very dark for a while. I grew distant from my parents and family, narrowly avoided getting into trouble and got through school because I didn't have to work very hard.
I became interested in the occult, partly because of the music I was listening to and partly because that's what teenagers do, to an extent. I had no idea what I was dabbling with and I thank God daily that I never tried things like ouija boards etc. I was looking for eternal and universal meaning though, looking for some significance to my life and the Creation.
I was looking in the wrong places.
Katherine's Journey Home